Daddy B. Nice's Top 10 "BREAKING" Southern Soul Singles
TOP 10 September 2022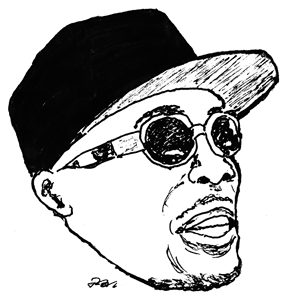 1. "Jukebox Lover (Remix)"——-Tucka feat. King George
Tucka's "Jukebox Lover" didn't make #1 in March when it was first released. It came in at #3, losing out to King George's megahit "Keep On Rollin'" and Tucka's own duet with Willie Clayton. This #1 makes amends. With the benefit of time it's obvious "Jukebox Lover" will go down as one of Tucka's most iconic songs, and when King George enters the first verse it takes off warp-speed for the stars. Truthfully, we've been so hypnotized by George's songwriting we're just beginning to appreciate the tones and textures of his everyman vocals.
Listen to Tucka and King George singing "Jukebox Lover Remix" on YouTube.
Read Daddy B. Nice's five-star ("southern soul heaven") review of King George's JUKE JOINT MUSIC.
Read TUCKA IS #1: The New Generation Southern Soul.
2. "Make Me Say It Again"——-Beyonce, Ronald Isley & The Isley Brothers
Beyonce sings southern soul! I never thought I'd say these words. She covers one of the Isleys' vintage hits with bewitching style and discipline, never lapsing into commercial R&B histrionics (except a little at the end), dueting with the incomparable Ronald Isley. The mixing and mastering is amazing in a southern soul context.
Listen to Beyonce and Ronald Isley singing "Make Me Say It Again" on YouTube.
3. "She's Running From Dick 2 Dick"——Billy "Soul" Bonds
Meanwhile, back on the red-clay earth of record production, Billy "Soul" Bonds returns with another song meant to make you laugh a little (but also cry a little). "Dick 2 Dick" isn't anywhere near as X-rated as it sounds. Some will call it corny, but that's just Bonds doing his thing (the thing we southern soul diehards love!) ironically with the same melodic structure of his long-running, cultish Delta favorite "Every Time My Neighbor Walks His Dog (My Wife Has To Walk Her Cat)," and featuring an equally nonplussed husband.
Read more at "Billy Soul Bonds: New Music Alert!"
Listen to Billy "Soul" Bonds singing "She's Running From Dick 2 Dick" on YouTube.
4. "A Closed Mouth Don't Get Fed"—–Bridget Shield
Bridget Shield is the young lady who released the perky and provocative "Let Me See It" last year. Here she gets into the chords and keys of Latimore's "Let's Work It Out" with satisfying results.
Listen to Bridget Shield singing "A Closed Mouth Don't Get Fed" on YouTube.
5. "Just Can't Let Go"——Breeze MrDo2Much
We remember "Friday" and "Is Anybody Lonely?", but as the years fly by we tend to forget the other great songs on Sir Charles Jones' Love Machine. This cover by Breeze is so faithful I at first thought Sir Charles had grown a beard and donned a cowboy hat. The most we can ask from a cover song is that it brings the original back to genuine, quivering life, and by that measure Breeze triumphs.
Listen to Breeze singing "Just Can't Let Go" on YouTube.
6. "I Had To Lie"——Avail Hollywood
Ms. Jody did a song called "I Had To Lie" and this song by Avail Hollywood is almost as charming, with additional elements to recommend it: Avail's vocal, a superb arrangement, scintillating production, and that super-tasty lead guitar used on 2021's Best Mid-Tempo Song "Dukes & Boots".
Listen to Avail Hollywood singing "I Had To Lie" on YouTube
7. "Mr. Uber Man"—–EPX (Eric Perkins)
The J. Blackfoot-like melody and instrumental track and the poignancy of the lead vocal beckon from the opening bar of "Mr. Uber Man," standing out on any playlist and lingering long after hearing.
Listen to EPX singing "Mr. Uber Man" on YouTube.
Read "Eric Perkins Returns As EPX".
8. "Good Ole Soul Music"—–Sweet P
Listen to Sweet P singing "Good Ole Soul Music" on YouTube.
9. "Gonna Do Right"—–T.K. Soul
Listen to T.K. Soul singing "Gonna Do Right" on YouTube.
10. "Southern Love"——Chi Jones
Listen to Chi Jones singing "Southern Love" on YouTube.
---
---
Feedback, comments, information or questions for Daddy B. Nice?
Write to: daddybnice@southernsoulrnb.com