Daddy B. Nice's Top 10 "BREAKING" Southern Soul Singles
TOP 10 December 2022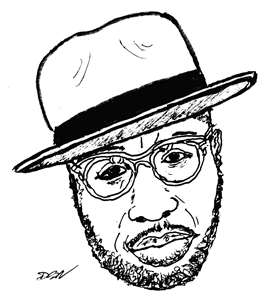 1. "Can I Get It?—–Ciddy Boi P feat. Till 1 & Mississippi Hummin' Boy
What a party-starter! It's raw, "grown," melodic and machined to groove. Ciddy Boi has a make-it-happen, follow-the-Pied-Piper voice, and the three-part verse trade-off among Ciddy Boy, Hummin' Boy and Till 1 blesses the song with endomorphin-releasing contrasts. For more on the prolific singer/songwriter/producer, read Daddy B. Nice's Ciddy Boi P: New Arrival/Make Way!
Listen to Ciddy Boi P, Till 1 & Mississippi Hummin' Boy singing "Can I Get It? on YouTube.
2. "Let Me Take You There"—–Stephanie McDee
One of Stephanie McDee's most uncompromising vocals ever. Set against a brilliant, undulating, acoustic instrumental track by (who woulda thought?) Unkle Phunk! To hear "Stef" barking out party-starter euphemisms like a dominatrix cracking a leather whip while the gorgeous guitar-picking weaves in and out like bands of silk rippling in the wind is at the least original and at best (my opinion) a little miracle sent down from southern soul heaven.
Listen to Stephanie McDee singing "Let Me Take You There" on YouTube.
3. "Whoop Dat Preacher"——Stan Butler
Stan Butler's preacher is worse than Mr. Jody! His rustic sound recalls Nathaniel Kimble ("Can You Back It Up") and Steve Perry ("Booty Roll"). And although the preacher gets the best of him, Butler's blithe delivery lifts spirits and breaks out smiles. Stan Butler is celebrated this month with a new, long-overdue artist guide in Daddy B. Nice's chart-in-progress, The New Generation Southern Soul.
P.S. Strange but true. Although they arrive at vastly different musical destinations, the rhythm track to Stan Butler's "Whoop Dat Preacher" is identical to the rhythm track of T.J. Hooker Taylor's "Count On Me"(#9 February 22)
Listen to Stan Butler singing "Whoop Dat Preacher" on YouTube.
4. "I Love It Here"——-Jay Morris Group
As markedly different as the preceding three songs are, this new Jay Morris Group ballad makes yet another stylistic statement. The production is more impressive on this record than most of their new album—a fuller sound (with all the trimmings) rendered all the more dramatic because of the close-to-acapella simplicity of the individual verses, taken in turn by Jay, Zee and K-Monique, Daddy B. Nice's Best Female Vocalist of 2021. You'll be hummin' it.
Read Daddy B. Nice's New Album Alert!
Listen to the Jay Morris Group singing "I Love It Here" on YouTube.
5. "Let's Play"——Karen Wolfe
This smokes, Karen. There are two versions, one explicit ("You walk around like your shit don't stink"…). Like Karen, who titles it the "Karen Wolfe version," I love it "bad". Call me grown, but "That Bitch Ain't Me" is just more real than "That Chick Ain't Me". Too many people censor themselves into irrelevance. Not the storied, past generation of divas (Brown, Carr, Scott-Adams, LaSalle). And not Karen.
Listen to Karen Wolfe singing "Let's Play" on YouTube.
6. "If My Girl Can't Come"——LaMorris Williams
The response to this unobtrusive little tune may surprise LaMorris. Women can relate, and it's a common—some would say universal—situation.
Listen to LaMorris Williams singing "If My Girl Can't Come" on YouTube.
7. "Ooh Aah"——Rosalyn Candy
Now this is the kind of song a man wants to listen to. Yes, sir.
Listen to Rosalyn Candy singing "Ooh Aah" on YouTube.
8. "Hot Grits"——Mz. Pat feat. Ciddy Boi P
Great tune. Scolding but lovable narrator (Mz Pat). There's an interval in the chorus when the background voices slip into what could almost be called a prolonged moan, like wind through the trees, or a long sigh. Nice effect.
Listen to Mz. Pat feat. Ciddy Boi P singing "Hot Grits" on YouTube.
9. "Don't Play With It"——–Breeze MrDo2Much feat. Jeter Jones
Breeze is the guy who did that stunning cover of Sir Charles Jones awhile back. He can really sing, even coaxing one of Jeter Jones' finest guest vocals on this southern soul stepper.
Listen to Breeze MrDo2Much & Jeter Jones singing "Don't Play With It" on YouTube.
10. "Good Woman"—–Miss Lady Blues
Miss Lady Blues has a little trouble reaching a high note midway through, then—like a lady in heels tripping on a grate—goes off-tune on a couple of notes, but the track is solid and getting good response.
Listen to Miss Lady Blues singing "Good Woman" on YouTube.
---
---
Feedback, comments, information or questions for Daddy B. Nice?
Write to: daddybnice@southernsoulrnb.com