Daddy B. Nice's Top 10 "BREAKING" Southern Soul Singles
TOP 10 September 2022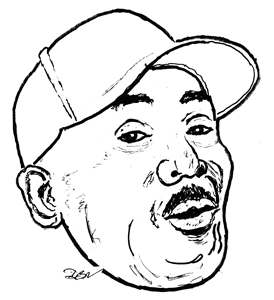 1. "Don't Go"—–Volton Wright
Who knew three simple, ascend-
ing chords could mesmerize like this? Volton builds a beautiful melody line for the verses that bonds to the simple chord progression like muscle to bone, then breathes inspirational lyrics—humble, chastened and heartfelt—into the whole to give it life. From his exemplary sophomore southern soul album, Love Me Right.
Listen to Volton Wright singing "Don't Go" on You Tube.
2. "Older Woman"——Sassy D.
A couple of new Sassy's are trying to break into the genre but (for now, at least) they're just imposters. The real Sassy is Sassy D, the Sassy D of "Change My Mind" and "Netflix & Chill". Sassy has an indescribable knack for hitting the universal inflections—part streets, part youthful innocence—like the ladies from Motown and Philly back in the day. And yet on "Older Woman" she expounds (albeit just as charmingly) from the older perspective.
Listen to Sassy D singing "Older Woman" on YouTube.
3. "Just Another Friday"——-Arthur Young
I don't understand the line that sounds like "The girl got that stallion booty" but I sure do like it. Just as much as I like the buzz I get from hearing Arthur Young singing a dance jam. Another superb tune from his latest album, Back To The Blues.
Listen to Arthur Young singing "Just Another Friday" on YouTube.
4. "That's On Me"——Slack feat. Jeter Jones
Slack comes out from behind the producer's scrim. It's not the first time, but probably the best, accompanied by his mate Jeter, and they're promising their gals everything. And I do mean everything.
Listen to Slack and Jeter Jones singing "That's On Me" on YouTube.
5. "I'm Gonna Ride That Black Horse"—–Ms. Jody
Ms. Jody swings for the fence with this one and it's going, going, going…gone. Home run. Best tune and best vocal since "Just Let Me Ride".
Listen to Ms.Jody singing "I'm Gonna Ride That Black Horse" on YouTube.
6. "Luv Dem Blues"——Narvel Echols
Narvel Echols, if you'll remember, did the mind-blowing "Pour Me A Drank" a couple of years ago. I like the way he goes out on a limb and still finds a southern soul groove.
Listen to Narvel Echols singing "Luv Dem Blues" on YouTube.
7. "Toxic Love"——Marcellus The Singer
This is a chart reappearance. "Toxic Love" made the Top 40 Singles a few months ago but has remained popular and is deserving of Top 10 recognition.
Listen to Marcellus The Singer singing "Toxic Love" on YouTube.
8. "Why I'm Crying"—–Adrian Bagher
At first this didn't sound at all like Adrian Bagher. Now, after repeated listenings, it does.
Listen to Adrian Bagher singing "Why I'm Crying" on YouTube.
9. "Catfishing"——Arthur Young
This is the original version of "Catfishing" never officially released. Much better than the previous, speeded-up version. Now if Arthur only took that old, charismatic Facebook video where he's smiling and playing the acoustic guitar to "Catfishing" and put it on the YouTube platform, we'd be as pleased as pigs in a poke.
Listen to Arthur Young singing "Catfishing" on YouTube.
10. "Fine Ass Girl"—–Memphis Jackson
Debut of the month. Interesting name. What next? someone called Monroe Shreveport?
Listen to Memphis Jackson singing "Fine Ass Girl" on YouTube.
---
---
Feedback, comments, information or questions for Daddy B. Nice?
Write to: daddybnice@southernsoulrnb.com