Daddy B. Nice's Top 10 "BREAKING" Southern Soul Singles Preview
TOP 10 June 2022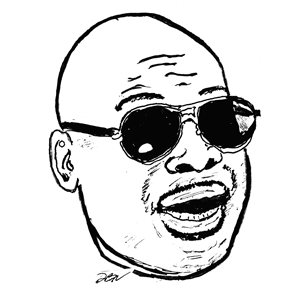 1. "Here Come Pokey"—–Pokey Bear
This is the hit single we've been waiting for. If you don't get it at first, play it louder. If still hesitant, get a little buzz on. You'll be busting moves you didn't know you had. Celebratory "hands in the sky" send-ups like this don't come around every day. What a rhythm section! What a chorus! Pokey brought in all the firepower for this one—Omar, Big Yayo—and the lyrics are straight from the big guy's psyche. I can already see him queuing it up onstage with "They Call Me Pokey".
Listen to Pokey Bear singing "Here Come Pokey" on YouTube.
2. "I Don't Ever Want To Break Up"—–Wendell B & J'Cenae
This one's from J'Cenae's excellent debut CD Decency, but Wendell holds forth until the two-minute mark, giving it the stamp of a Wendell B record, and a glorious one at that, and God knows we need a Wendell B "fix". J'Cenae more than holds her own technically, quite a feat in itself.
Listen to Wendell B and J'Cenae singing "I Don't Ever Want To Break Up" on YouTube.
From #322 to #19! Read about J'Cenae's rise to the top ranks of the "New Generation Of Southern Soul".
3. "Come To The Trailride"—–Jeter Jones
This one will sneak up on you. About much more than what the title hints, it's really a flat-out love song with "country" as its nexus. Once again Jeter finds the elusive vein of genuine emotion.
Listen to Jeter Jones singing "Come To The Trailride" on YouTube.
4. "Country Boy (Remix)"—–Chu'zu, Vince Tucker, Jeter Jones
Great song, incredibly produced, exotic and refreshing in sound. I don't know anything about the participants excepting Jeter, but the new voices are robust and haunting.
Listen to Chu'zu, Vince Tucker and Jeter Jones singing "Country Boy (Remix)" on YouTube.
5. "Corner Sto"—–Ciddy Boi P. & Mz. Connie
The promotional copy I received has a better mix, without the Miami horns, etc. on the available YouTube version, which distracts from what are two of the grittiest vocals (male or female) of the year.
Listen to Ciddy Boi & Mz. Connie singing "Corner Sto" on YouTube.
6. "Ms. Parker"—–Kinnie Ken
Kinnie Ken debuted in July of 2020 with Sojo The Ladies Champ on the stupendously robust duet "I Got That Good Good". "Ms. Parker" finds him in a more wistful state of mind, but the voice still sends shivers down your spine.
Listen to Kinnie Ken singing "Ms. Parker" on YouTube.
7. "Das My Kitty"—–Kandy Janai
The debut of Kandace Janai Horne is already receiving raves. The song delivers a brisk slap of reality to an entitled and clueless man.
Listen to Kandy Janai singing "Das My Kitty" on YouTube.
8. "Lucky"—–David Brinston feat. Mr. Frayser
From David Brinston's new CD Poundtown. New artist Mr. Frayser notches a remarkable vocal that not only meshes well with David's but lifts the tune to another level.
Listen to David Brinston and Mr. Frayser singing "Lucky" on YouTube.
9. "Truck Driving Baddie"—–Lokey Kountry
Lokey Kountry is the name of a singer, not a band, who debuted with the amazing single "Goin' Out" in September of 2020. This time out it's a song of praise for female truck drivers.
Listen to Lokey Kountry singing "Truck Driving Baddie" on YouTube.
10. "Get On Out Of Here"—-Tasha Mac
Tasha Mac continues to impress, decisively serving notice on her ne'er-do-well mate while burying her bitterness in an ironically romantic arrangement.
Listen to Tasha Mac singing "Get On Out Of Here" on YouTube.
---
---
Feedback, comments, information or questions for Daddy B. Nice?
Write to: daddybnice@southernsoulrnb.com