Daddy B. Nice's Top 10 "BREAKING" Southern Soul Singles Preview
TOP 10 July 2022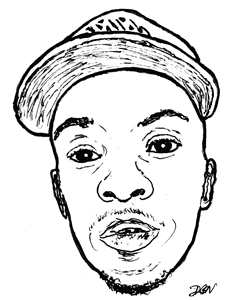 1. "Step Into My Room—–Lil' CJ
A case of "young folks" living "grown folks" music. Lil' CJ, who looks all of twenty, sings like a southern soul veteran. The hook is so basic and the tune so short, it's easy to be dismissive, but soon—like a red-and-white bobber tugging at the end of a summertime fishing pole—you realize you're humming "Step Into My Room unconsciously as you're going about your business.
Listen to Lil' CJ singing "Step Into My Room" on YouTube.
2. "Country Girl"—–Jus Epik feat. Money Waters
This is a joyous romp throbbing with authentic southern soul vibes. The instrumental track and brisk tempo furnish the momentum, while the lead vocal by newcomer Jus Epik is downright head-turning. And these guys are youngsters too. I can tell because they say "Wait a minute" a lot.
Listen to Jus Epik and Money Waters singing "Country Girl" on YouTube.
3. "Girl You Got It"—–King George
Here it is, the first single since King George gained his southern soul bonafides. Uplifting, inspirational, produced with class. I'm pinching myself, because it's hard to believe we're talking about someone who was unknown a year ago, a debut artist who made the unheard-of leap from newcomer to instant headliner. The latest-breaking news is that King George's much-anticipated album (actually two albums) is out and for sale. See Daddy B. Nice's Featured Artist for July '22: King George #18 The New Generation Southern Soul (New Album Alert!).
Listen to King George singing "Girl You Got It" on YouTube.
4. "You Don't Need It"—–Lacee
Lacee's not going away. She's more sophisticated and in-control than ever. Superb, no-frills vocal. Captivating "Lacee's Groove"-kinda groove.
Listen to Lacee singing "You Don't Need It" on YouTube.
5. "Tell Me How You Want It"—-Ms. Ty feat. Arthur Young
Ms. Ty's vocal is a delight. Brings back girl-group-era memories. And Arthur Young is at his very best, personality oozing out of every bar.
Listen to Ms. Ty & Arthur Young singing "Tell Me How You Want it" on YouTube.
6. "Making Plans (Jody)"—–Harrison Hollingquest
This well-done debut mixes the music from Z.Z. Hill's "Cheating In The Next Room" with the lyrics from Peggy Scott-Adams' "Bill" to make a very pleasant concoction. "Y'all better do a background check" sums up the message.
Listen to Harrison Hollingquest singing "Making Plans (Jody)" on YouTube.
7. "Hard Working Brutha"—–Meme Yahsal
2020 Best Debut Finalist Meme Yahsal is also a hard-working sister, and with this single she's knocking on the door louder than ever before.
Listen to Meme Yahsal singing "Hard Working Brutha" on YouTube.
8. "Country Girl Lovin'"—–Robb Blacc
Easy to confuse with #2 above. Another solid debut in its own right.
Listen to Robb Blacc singing "Country Girl Lovin'" on YouTube.
9. "The Remedy"——Napoleon Demps
Remember Napoleon Demps? After some interesting singles in the twenty-teens he put together a hiphop-oriented sampler he had the hubris to term "southern soul". Naturally, I gave the CD one of my worst ratings ever (1 star) and Demps limped back to Flint, Michigan. Four years later, Napoleon's back with a tremendous record, "The Remedy," written by Demps and produced by Joey Quionnes. It's soulful to the max and deserving of success, but Demps—snake-bitten once—still hasn't summoned the courage to advertise it widely, post it on YouTube or release it for sale. Here's hoping he does.
10. "Roll And Rock"—–Melani
A new artist who's been popping up in the Top 40 the past two to three months scores her first Top 10 hit with a mid-tempo smoothie as sleek and svelte as a stepping song.
Listen to Melani singing "Roll And Rock" on YouTube.
---
---
Feedback, comments, information or questions for Daddy B. Nice?
Write to: daddybnice@southernsoulrnb.com