Daddy B. Nice's Top 10 "BREAKING" Southern Soul Singles Preview
TOP 10 June 2020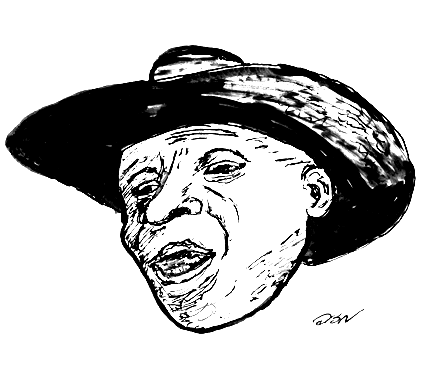 1. "Rock With You"—–R.T. Taylor
Even after honoring him with Best Male Vocalist Of The Year for his debut southern soul single "It's A Mule," your Daddy B. Nice didn't know if R.T. Taylor could ever do it again. A man's loving life compressed into three verses and choruses, "Rock With You" proves it wasn't a fluke. Was Taylor delivered to southern soul fans to make up for the loss of the late Bishop Bullwinkle? My guess is that he will become as beloved. When R.T.'s voice occasionally cracks and wavers with the frailty of age, it makes the effect of the vocal even more powerful. One of Ronald "Slack" Jefferson's finest productions, from R.T.'s new debut album The Mule Man.
Listen to R.T. Taylor singing "Rock With You" on YouTube
2. "Mind Playing Tricks On Me"—-Jeter Jones
Everybody should give this song to their rap and hiphop-loving friends. It'll blow their minds while giving them an instant vision of what southern soul is. Bigg Robb had a #1 Single in July of 2019 sampling this same Geto Boys song. From Jeter's hot new album, Mufassa.
Listen to Jeter Jones singing "Mind Playing Tricks On Me" on YouTube.
3. "Staying in Love Ain't Easy"—-Wendell B
Following on the heels of last month's #1 Single, "Get'cha Head Right," from The Boss's new LP Real Talk, "Staying In Love Ain't Easy" is the next hit single from what is increasingly sounding like the best solo-artist album since Tucka's Working With The Feeling.
Listen to Wendell B singing "Staying in Love Ain't Easy" on YouTube.
4. "Go Get A Room"—-Ronnie Bell
With over 15 million views on YouTube and counting, recording artist Ronnie Bell struck a chord with his women's power-enhancing "I'll Pay The Shipping Cost". Now he's back with an equally fetching, cautionary song for the men. From his long-awaited new album, Ronnie Bell 365.
Listen to Ronnie Bell singing "Go Get A Room" on YouTube.
5. "Can Somebody Take Me?"—-Tyree Neal feat. Omar Cunningham
This is a sweet southern soul tribute with an intoxicating rhythm track and maybe Tyree's best vocal ever. Regular readers know your Daddy B Nice touts Tyree as one of the best guitarists in southern soul (I'd probably say the best right now) but gives short shrift to his laid-back solo efforts. (Felt the same way about Eric Clapton, so don't feel bad, Tyree.) However, "Can Somebody Take Me" takes the cousin of the late Jackie Neal to another level. Mostly invisible on the recording, lending an obviously inspirational hand, is Omar Cunningham. It's from Tyree's new album, I'm Missing My Baby.
Listen to Tyree Neal singing "Can Somebody Take Me?" on YouTube.
6. "Last Few Dollars"———David J
"I've got two kids/ I got a cat and a dog/ I've got a whole damn wife at home/ But tonight I'm gonna risk it all." This is one hell of a southern soul song, and one hell of a vocal. Note that this is David J,the performer who recorded "Super Woman" and co-sung "Sunshine" with Solomon Thompson, not David G, a former artist who recorded southern soul in 2008 and 2009.
Listen to David J singing "Last Few Dollars" on YouTube.
7. "Still In Love"—–Sir Charles Jones feat. Jeter Jones
The verses in this song are right up there with the best Charles has ever done, but they seem wasted on an unfulfilling chorus. This caused your Daddy B Nice no end of aggravation this month as I listened and wrote comments that went near-viral on the Sir Charles page. Read more.
Listen to Sir Charles Jones and Jeter Jones singing "Still In Love" on YouTube.
8. "Can You Keep A Secret?"—–Pokey Bear
The Big Pokey Bear throws down his strongest track in awhile. That's not only because "Can You Keep A Secret?" is the perfect material for our favorite, cuddly but ornery, southern-soul grizzly. It's also because, like in Josephine Son Pokey, he "sangs" the heck out of it.
Listen to Pokey Bear singing "Can You Keep A Secret?" on YouTube.
9. "I Sing Da Blues"—-Chrissy Luvz
This is a singer to watch out for; she's shined on a number of recent projects. Here's how I referred to Chrissy in a new review of Dee Dee Simon: "For a look at a tune that qualifies as southern soul because it is doing something original with "funk," check out Chrissy Luvz's new jam, 'I Sing Da Blues'."
Listen to Chrissy Luvz singing "I Sing Da Blues" on YouTube
10. (Tie) "Operate On Me"—–Sheba Potts-Wright
"Give Him Love"—–T.J. Hooker Taylor
---
---
Feedback, comments, information or questions for Daddy B. Nice?
Write to: daddybnice@southernsoulrnb.com