Daddy B. Nice's CD Reviews August 2019
August 25, 2019
BIG G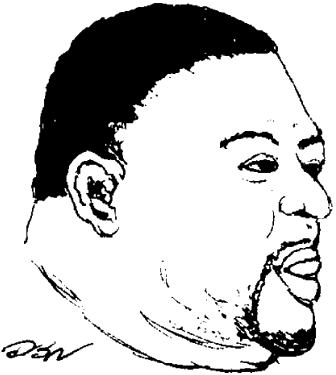 BIG G: Let's Party (Stone River Records)
Three Stars *** Solid. The artist's fans will enjoy.
Without fail, my youngest brother (same mother, seventeen years my junior) sends out a "Song Of The Day" e-mail to the extended family, and once a month your Daddy B. Nice "subs," usually picking a southern soul song in which to indoctrinate the recalcitrant family (not a typical southern soul audience) in the southern soul genre. This month I sent out Big G's "I'd Go Back" from his latest album, Let's Party, with the following explanation:
"Here is a song from a CD I'm reviewing this week. The artist is Big G. from North Carolina. Unlike most southern soul artists, he uses all live instruments in his recordings. He's on the borderline with country, bluegrass, and Americana. The song is "I'd Go Back". I like this stanza's lyrics:"
Living down in a small town,
Everyone knows your name.
If you ever do something wrong in your life,
It'll always bring you shame.
Listen to Big G singing "I'd Go Back" on YouTube.
You know how families are; you're lucky if you get any reaction, especially with a new song, and when you do it's usually unanticipated or off-the-wall. Vintage tunes–the ones that bring back memories–are the most popular, so I wasn't expecting much response from the family, even though we all grew up in a small town. However, Big G drew reaction. First, one sister commented on the coincidence that the song went out a year to the day after our beloved mother died. My song-of-the-day brother responded, "I liked your selection today from Big G. I may have to give it another listen." (High praise from him.) A first cousin chimed in with a thumbs-up, and another sister wrote back: "A good song, and touching lyrics! That's where my mother had me. (Another lyric from the song.) Thank you!"
I report this anecdote because it dovetails with a theme I was already considering for this review: namely, that Big G really does come close to being a crossover artist (via Americana and Bluegrass.). He never gets profane or outrageous–the bane of many conservative and religious people such as my family–and his music doesn't sound as strange as most southern soul music does to uninitiated ears. G's vocal style (which I once compared to bygone folksinger Burl Ives) and his live instrumental tracks also place his music closer to the Americana genre (remember, that's the category in which William Bell won his Grammy), and if Big G ever makes inroads with the college radio/National Public Radio/FM-friendly music market, he could cross over with financial windfalls.
In a profile of Big G written for Living Blues Magazine, writer Noah Schaffer recounts Big G's and (producer/promoter) Cynthia Vaughn's consternation at Big G's being excluded from an R&B festival in Virginia they themselves had started.
Vaughn noticed a paucity of southern soul venues in the region south of Richmond–and that Big G was invariably excluded from the lineups of outdoor Richmond events that book R&B groups, like the Second Street and Richmond Folk Festivals. So, Stone River launched the Father's Day Blues Festival in Crewe, Virginia…The event has featured artists like Kenne' Wayne, Jeff Floyd and Joe Tex III. Despite always having a peaceful audience, Big G and Vaughn were stunned when they were denied a permit to use the Crewe pavilion this year. Adding to the sting was that events targeted at white audiences were allowed to continue.
Well, that's not surprising. For "events targeted at white audiences," read mid-twentieth-century electric blues, the only blues with which the great majority of the white audience is familiar. And it's not surprising because in the southern soul geography, Virginia is a "frontier," an outlier. It's not the Delta, where southern soul music is insulated and where every small town and mid-sized city (even the capital of Jackson, Mississippi seems like a county seat to travelers from the North) is seeped in southern soul culture.
In Virginia, on the old Mason-Dixon line, you have a Tower of Babel of life styles and cultures, from small rural towns such as Big G (aka George Staten) grew up in, to the bedroom communities of the richest cache of urban-oriented lawyers feeding at the national trough in all of America. You have music fans who can't differentiate Big G among Shuggie Otis, Swamp Dogg, Al Green or Lionel Richie. In this confusing musical potpourri it's no wonder Big G (while identifying himself as a southern soul artist) sounds so different from most southern soul artists, and it's no wonder that G finds himself beset on every side by musical competition, genres and audiences of bewildering variety.
Big G himself is not confused. In the title track to the new disc, "Let's Party," he proudly invites "all you southern soul fans" to join him in his virtual Saturday night club setting and he rejoices at all the "southern soul fans everywhere". "Let's Party" may have been intended as a showcase track, but it–or at least this version, with its simple chords, lackadaisical tempo and familiar delivery–falls short. The error may be letting the jazzy saxophone take the lead on the entire instrumental track when something more forceful–a good, blazing, lead guitar hook, for a change–is called for to slam the song home. If there is an over-riding flaw to Let's Party as an album, it's the lack of a memorable song with the soulfulness and musicality of "You're Not The Only One" and, to a lesser extent, "I Need Your Love (Remix)" from Big G's last album, Lonely Tears.
The most interesting tunes from this new set are the aforementioned "I'd Go Back" and the old man/sugar-daddy vs. younger woman/gold-digger dichotomy of "That Young Thang," which has that novelty-song thing going for it in the same way G's biggest hit, "Last Paycheck" did. Indeed, "That Young Thang" simulates the same chords, tempo and even vocal approach (utilizing talking/rapping) as "Last Paycheck". Big G should take note, because every hit song from an unknown or little-known genre, going back from contemporary southern soul (Bishop Bullwinkle's "Hell Naw To The Naw Naw," Theodis Ealey's "Stand Up In It," etc.) to early "race" music (Cab Calloway, etc.), r&b and rock and roll has been labeled a "novelty song".
Technically, Let's Party is pristine. G's vocals are mostly superb, the background tracks lend much-needed texture, and the ubiquitous live saxophone fills and other live instruments are refreshing to hear in a southern soul context. There's something about live percussion that can't be replicated in programming. With live drums there is an anticipation, a Waiting-for-Godot like tension, as if the next bar might be tweaked with a slight hesitation, a flourish or other musical surprise, or as if the next bar might (or might not) even be played.
This works especially well in songs like "Personality," which sounds like Big G has been listening to some vintage Barbara Lewis, and "Loving," a cradle-rocking-tempo-ed ballad. Another ballad, "Give Me Back My Heart," with its strong Big G lead vocal and "hoo-hoo," owl-like, female background track, is especially poignant. The tune shimmers with G's trademark strength and authenticity.
But in spite of the good, solid music on the CD, the nagging question for longtime Big G fans will be the lack of much of anything musically new or surprising. Songs like "Freaky Groove," "What You Mean To Me" and "Beauty Queen" sound way too familiar. The disc may actually hold more pleasure for fans new to the artist.
Cynthia Vaughn, in the Living Blues article quoted above, recounts how back in the day Big G wanted to release a new album every six months. She convinced G to release no more than one new set a year, but even that pace is a torrid one for a solo singer/songwriter unaffiliated with any label–second only to John Ward's flagship artists (O.B. Buchana, Ms. Jody, etc.) at Ecko Records, who have their own perennial issues with fresh, non-derivative material–and John Ward relies on collaborators, something Big G to this point has not. Big G will have to surpass the songwriting limits of this CD and add more variety and novelty to his production in order to take his artistry to an even higher level. Perhaps he needs to slow down, step back and take the long view: take in the mountain vistas with their gleaming white, snow-covered peaks beckoning his art, not just the foothills where he is safely and securely ensconced as a southern soul institution.
–Daddy B. Nice
Listen to all the tracks from Big G's New LET'S PARTY album on YouTube.
Buy Big G's new LET'S PARTY album at CD Baby.
Read Daddy B. Nice's "Big G: New Album Alert!"

---
---
August 4, 2019
WHAT ABOUT EL' WILLIE?
EL' WILLIE: El' 19 Smooth as Silk (William Travis Jr./Twilight Records)
Two Stars ** Dubious. Not much here.
In the movie What About Bob?, Bill Murray plays an obsessive-compulsive neurotic named "Bob" who can't survive without his psychotherapist, "Dr. Leo," played by Richard Dreyfuss. The simultaneously needy and cunning Murray tracks the successful but fatally self-absorbed Dreyfuss to his lakeside home, where he's on summer vacation with his family, the squeaky, mild-mannered Julie Hagerty and their two kids. When Bob befriends, charms and disarms his family, Dreyfuss becomes apoplectic (he'll later be driven insane), throwing Murray out of the house, and when the family reacts with sympathy, chiding Dr. Leo for making him go away, Dreyfuss screams, "Go away? He didn't go away! He'll never go away!" He strides to the front door and swings it open, and sure enough, there's Bob, standing with his nose pressed against the screen, and Dreyfuss, having submitted the incriminating evidence, slams it shut.
El' Willie's new CD, El' 19 Smooth as Silk, will evoke a comparable response from your average southern soul fan. What are we going to do about El' Willie? I say that tongue-in-cheek, because–like "Bob"–we know he's never going to go away.
El Willie's musical claim to fame is writing, or co-writing (under his given name, William Travis) "Stand Up In It" for Theodis Ealey, but he has also been recording and performing since the early days of the century. In the first year Daddy B. Nice began charting southern soul singles (2006-07, pre-YouTube-music-video-links), El' Willie made the chart with the beguiling ballad, "You Got Me Where You Want Me," and he's been churning out self-produced, solo LP's ever since. A few have been good; most have been bad. None made a blip on the sales charts, none were played on your favorite Saturday-afternoon southern soul shows, and none qualified as southern soul music.
How then, you may ask, has Willie managed to parlay a career recording easy listening music–"smooth as silk" (to borrow from the present set's title)–the kind of music you're more likely to hear in an elevator than a club–into a more or less permanent niche in the southern soul market? The answer is he's like "Bob": persistent, personable, and he never, ever goes away.
I have been occasionally smitten. El' Willie is a fine-timbred vocalist and and an unflagging writer, and over the years he's become a better-than-middlin' if narrowly-focused producer. I'll never forget a particularly stressful family reunion in the old river town of St. Joseph, Missouri when I would go back to the solitude of my hotel room and bask in the peacefulness of El's The Game Changer, with its supple melodies and organ tremelos–as relaxing as a lap-cat's steady purring.
But none of this really excuses the fact that Willie wants to have it both ways, piggy-backing on the southern soul audience (and jostling for reviews) while stubbornly snubbing southern soul's traditions and conventions. In El' 19 Smooth as Silk, for example, there is a grand total of three songs that a southern soul fan might conceivably hang his or her hat on: "Sunshine Lady," "Elmo's Soul Cafe"and El' Willie's Block Party". And yet, musically speaking, "Sunshine Lady" has absolutely nothing in common with Latimore, "Elmo's Soul Cafe" has nothing in common with Little Milton, and "El' Willie's Block Party" has nothing in common with Chuck Brown. Not only does El' Willie have no connection to these artists; he's not even in the same ballpark. It's like an athlete brazenly wearing a team uniform despite refusing to show up for practice or play on the team.
So unless you're interested in lyrics like "Hello sunshine / Good-bye rain," unless you're interested in love songs constructed with every lame pick-up line you've ever heard, unless you're interested in music you might want to put on Sunday morning before going to church, unless you're burned out on southern soul from the weekend before and you're in need of a Zanax-like comedown, you're better off passing on El' Willie's El' 19 Smooth as Silk.
El's the Game Changer, but I know he's not going to change HIS game, just as I know he will be back next year with yet another album of laid-back lounge jazz; just as I know that album will consist of not eight quality tracks but sixteen mediocre tracks; just as I know El' will be writing me a long letter (which I'll dutifully publish)defending his music from my hostile (sorry, don't mean it that way) review, reiterating that he's living the cool life and he's taking the higher ground. But El' Willie, at some point, does have to take some responsibility for the music he's making. After all, this is–as so many artists have taken to calling it in thank-you letters to your Daddy B. Nice–a "southern soul platform". That's the way it is, and that's the way it's going to be.
–Daddy B. Nice
Buy El' Willie's new EL' 19 SMOOTH AS SILK album at CD Baby.
---
---
Feedback, comments, information or questions for Daddy B. Nice?
Write to: daddybnice@southernsoulrnb.com