Daddy B. Nice's CD Reviews 2022
December 10, 2022
KING GEORGE: Juke Joint Music (Ace Visionz)
Five Stars ***** Can't Miss. Pure Southern Soul Heaven.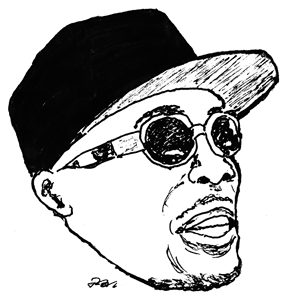 The dust has finally settled since King George hit us like a ton of bricks. This is a guy who's a shoo-in for Best Debut of the year. What a laugh! That doesn't begin to convey the impact he's had on the southern soul audience. King George is way beyond best debut—he's catapulted to southern soul stardom. And what he's accomplished in the space of a few months isn't easy. If it was, hundreds if not thousands of aspiring southern soul artists would have already done it.
I say "a few months," but the work that went into this year of meteoric success and this greatly-anticipated collection surely took many years. It's evident in the weight and heft of the songs, their melodic richness, their traditional-sounding yet original guitar riffs, and of course the lyrics and the ability of King George's vocals to make the messages instantly believable.
Juke Joint Music brings together the four great songs that made King George a legend: "Keep On Rolling," "Too Long," "Leave And Party" and "Friday Night," supplementing them with three more songs that King George already had recorded—"Love Song," "Be With You" and "Don't Let Me Be Blind"—and adding three more fantastic tracks: the radio-edit of "Keep On Rolling," the duet with Tucka on "Jukebox Lover" and George's new single "Girl You Got It".
In other words, this is exactly what the fans have been clamoring for—with one caveat. Distribution is still dicey. The big sellers—Apple, Amazon, etc.—don't have it (yet). This link takes you to King George's own website, where I just pushed the BUY button (hard copy CD only) and came up with $12.99. Very reasonable for such a once-in-a-lifetime collection, especially compared to E-Bay (below), where a constantly revolving set of buyers and sellers has been maintaining an average sales price between $25 to $30 in a modern-day version of bootlegging out of car trunks in days of old. George could increase the supply by distributing through the major retailers.
Once in a lifetime? Yes, that's how I view this album. A unique, early-career triumph that will probably never again be matched. A fleeting moment—a magical moment—when youth and inspiration fuse into a genuine artistic voice and an artist's identity is sealed forever in a pocketful of seminal songs. Fans never forget that. Ask Sir Charles Jones.
I chronicled my own introduction to King George step by step earlier this year, and most of it concentrated on "Keep On Rollin'" and the crowds of women pumping their fists to "one monkey don't stop no show" at his concerts, although many of the other songs made the Top 10 Singles in the first half of '22. Meanwhile letters poured in. Where can I buy King George? Sales were lost. There was unprecedented demand. Gradually, the King George hoopla subsided somewhat. Music turned to other things…Tucka with "Jukebox Lover," Pokey Bear with "Here Comes Pokey"…
The pause was good for me, and I've come back to King George's music with fresh ears and a renewed appreciation for "Too Long," or "Can't Stay Too Long," which depicts a man who isn't about to get distracted from getting back to the woman waiting for him at home. My own trajectory with "Too Long" went from a kind of apathy—at first I couldn't understand why it had a million views—to a growing fascination with the lyrics—the angelic side of King George as portrayed in "Too Long" as opposed to the devilish side portrayed in "Keep On Rollin'".
Once I got hooked on the lyrics, it brought me back to the music. The chords materialized. I was swept up in the song's current, and I reveled in its instrumental track and vocal. So now, after a half-dozen months of King George, it's "Can't stay too long…" I keep hearing in my head, not "Gon' keep on rollin'…" These two spectacular songs have each garnered around twenty million views on YouTube—about seventeen million more than they had just a few months ago, when three million seemed astounding.
King George is just the latest in a line of hip-hoppers who've crossed over into southern soul music bringing an enhanced mastery of production techniques. Even in an easily-overlooked song like "Friday Night," the production and arrangements, both instrumental and vocal, make you gasp with the care lavished upon them. "Leave And Party," with its marvelous gospel background choruses, aptly captures the muted frustration and impatience of an otherwise hard-working man intent on "getting his party on". Add the sparkling fizz of "Girl You Got It" and you have a set of songs for the ages.
—Daddy B. Nice
Buy hard-copy CD only of King George's new Juke Joint Music at 803KingGeorge.com.
Buy King George's new Juke Joint Music album at E-Bay.
---
---
Feedback, comments, information or questions for Daddy B. Nice?
Write to: daddybnice@southernsoulrnb.com