Daddy B. Nice's replies to your letters – Mailbag July 2021
July 14, 2021
Re: Roy Roberts bluesman, "Chocolate Cowboy" and soul artist
Hi Daddy B Nice, 
Thought you might enjoy reading this about Roy. He is getting ready to drop a Country and Country Soul album. 
Amazing tale of Roy Roberts, bluesman cowboy with soul. 
Daddy B Nice replies: 
Thanks, I'll give this interview some publicity and a link-to in next month's NEWS AND NOTES. 
Cassie J. Fox replies: 
Thank you Daddy B. Nice, we appreciate it! Its exciting time for black artists in country & country soul right now. More social media access to these artists and press. Roy played in white country bars/venues from 1980-89′ As Himself (Chocolate Cowboy) and with O. B. Miclinton as his bandleader. CMT Star Rissi Palmer is from North Carolina, like Roy, Darius Rucker from South Carolina. There's also an active twitter site called Black Opry, and I have plans to promote him there. Also a Black Country Music Association from Nashville. Cleve Edwards-physician by trade, and a Liberty Records artists from the 90's founded it I believe. 
Also the first black women to sing on the Grand Ol Opry is Linda Martell -Thelma Bynum-real name. She is from here in South Carolina, about 45 minute drive from us. She could SANG too. Yodel & Sing. She worked with Shelby Singleton-Legendary producer, appeared on Hee Haw too. Her granddaughter is trying to raise funds for a bio/documentary. Linda does have a star on The Nashville Country Music walk of Fame, well deserved too. I had a causal interviewd her about 10 years ago for news print article. They wanted to hack it up, so i never sent it in. I hope to get with "politician" a representative from her district. to declare a street or day in her hometown, she's never been really recognized properly in South Carolina. 
I'll continue to copy and past your reviews and articles on social media. Its nice to have a consistent voice of authority and knowledge to bring these artists and their music to the public. I'm seeing more down south soul folks on twitter as well. We'd like to do some adverts, when our budget allows, one for my shows & Roy's Music. 
Just picked up an FM 94.5 In Montgomery,AL WUMO-FM my synd show will air there & stream too. Brett Ringgold is owner/ programmer. Also my synd show airs in UK and Germany on net & FM station on the weekend. Its also simulcasting on Nutt Brown's LP FM stations Monday morns: KJUK, KZZC, KTHN-FM Texas and Arkansas, Upper Louisiana. 
PS: Grown Folks" and Grown Folks Music" (from your last "news and notes") thats one of my main tags on my social media posts & tweets for the last few years. 
Thank You for ALL you do for these artists & Labels. I sure hope they realize how important your vast contributions are to their careers and this subgenre of music.You are giving them a voice, they normally wouldn't have. 
Cassie 
July 1, 2021
Why Do You Focus Only On Jeter Jones?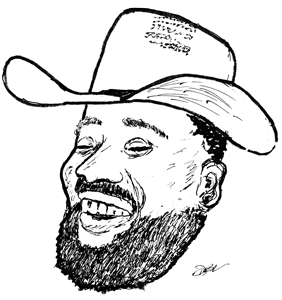 Greetings,
Why do you focus only on Jeter Jones?!?!
We are just wondering – nothing against Jeter! Is he your client or something?!
Streetz989ATL 24/7
Daddy B. Nice replies:
That's what I do. Raise 'em up. That is, raise up deserving artists and celebrate their accomplishments. Jeter Jones is only the latest. This is nothing I haven't done before at pivotal "tipping" points in their careers with Sir Charles Jones and T.K. Soul, with Mel Waiters and Peggy Scott-Adams and Roy C and Vick Allen and L.J. Echols. And when I make a drawing it's like the southern soul version of being on the cover of "Rolling Stone". Only it's the unrecognized black artist who's being "raised" and caricatured and memorialized for posterity, not the often undeserving white musicians who get the hog's share of national publicity.
In spite of your aside that it's "nothing against Jeter," your comment that I focus "only on Jeter Jones" implies that Jeter isn't deserving. But as I mention in my latest CD Review of Jeter Jones' Trailride Certified 2, how can anyone not be amazed by the four—count 'em, four!—quality albums Jones has released in the last year? This is an unprecedented run.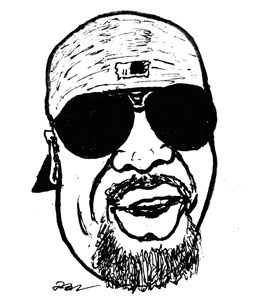 And as to focusing "only" on Jeter Jones, I'll direct your attention to my year-end wrap-ups ("The Year In Southern Soul"). Last year I celebrated Wendell B's domination. The year before (2019) it was Tucka's time to shine. In 2018 I feted Sir Charles Jones. And the year before that (2017) Big Pokey Bear was the deserving object of my largesse. Either you've been with me only a short time, or you have a short memory, but hey, I appreciate the tough questions and always relish the opportunity for a good rant. Thanks for writing in, and keep 'em comin'!
Streetz989ATL 24/7 replies:
No, Jeter is an Awesome Entertainer
Feedback, comments, information or questions for Daddy B. Nice?
Write to: daddybnice@southernsoulrnb.com