Daddy B. Nice's Top 10 "BREAKING" Southern Soul Singles Preview
TOP 10 JULY 2019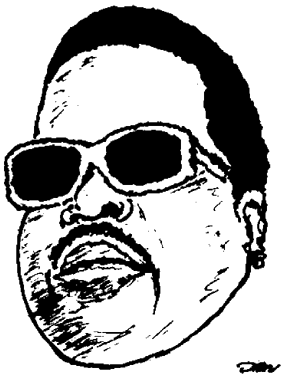 1.  "I Did My Time" – Bigg Robb
Bigg Robb takes over this riff–one of the greatest in rap history, from the Geto Boys' "My Mind Is Playing Tricks On Me"–and kills it with his deep-voiced, alpha-male, yarn-spinning self-assurance. From his cornucopia of a new album, Good Muzic.
Listen to Bigg Robb singing "I Did My Time" on YouTube.
See the Geto Boys in Daddy B. Nice's Top 20: The Soulful Side Of Rap & Hiphop.
2. "Why Me?" – Gentry-Jones
The first things you notice about this long-overdue cover of the late Reggie P.'s classic "Why Me" are the flaws: the inferior vocals (and "inferior" to Reggie P. leaves a lot of room to be soulful), the distortion caused by the amplified bass and percussion. And yet this song–all six minutes of it–just keeps growing on you. It rocks, and has the potential to be bigger than "Roll It, Roll It," and a classic in its own right.
Listen to Gentry-Jones singing "Why Me?" on YouTube.
3. "Good Times" – Lomax
Here Lomax is very close to the southern soul heaven he captured like a jar of fireflies in "Swing It".
Listen to Lomax singing "Good Times" on YouTube.
4. "You Can Ride It" – O.C. Soul & The Soul Patrol Band
O.C. Soul is one of those fascinating characters I refer to in my review of 2 Buck Chuck,whereby a passionate convert to the southern soul genre achieves a unique perspective on timeworn themes that a veteran artist could never recapture. You might call it the sharpness of an outsider. And so O.C. Soul, who has a very unusual and charismatic voice, tackles Marvin Sease material (no comparisons, of course) with amusing aplomb.
Listen to O.C. Soul & The Soul Patrol Band "You Can Ride It" on YouTube.
5. "That Thang" – Volton Wright featuring Slack
The opening track of Slack's (aka producer Ronald "Slack" Jefferson's) agreeable, nineteen-song collection, My Music My Friends: Southern Soul Compilation: Various Artists.
Listen to Volton and Slack singing "That Thang" on YouTube.
6. "Superstar" – Vick Allen
Just a coincidence, but the guitar hook is a close cousin to the guitar riff in Bigg Robb's "I Did My Time" (above). From Vick's new album, Untouchable, not to be confused with T.K. Soul's new album, Untouchable.
Listen to Vick Allen singing "Superstar" on YouTube.
7. "Funky Blues" – DJ Wildman Tim
Great funk hook cut with southern soul. The vocal tracks might remind avid southern soul fans of Pyramid City Band's "Party Time". From Slack's My Music My Friends: Southern Soul Compilation.
Listen to DJ Wildman Tim singing "Funky Blues" on YouTube
8. "My Cake" – Mr. Campbell
This song is Number One in Mobile, Alabama. Released on YouTube in early January to little fanfare, it harks back to Campbell's fine debut in 2017, "I'm Stepping Out".
Listen to Mr. Campbell singing "My Cake" on YouTube.
9. "We Come To Party" – Jeter Jones
Another cut in Jeter's new, understated, groove-dominant, "Black Horse-It'z Karma" style. From Slack's southern soul compilation (see above).
Listen to Jeter Jones singing "We Come To Party" on YouTube.
10. "Bottle After Bottle" – P2K Dadiddy
Brand new from P2K. Fantastic instrumental track–almost a leap to a symphonic level.
---
---
Feedback, comments, information or questions for Daddy B. Nice?
Write to: daddybnice@southernsoulrnb.com