Daddy B. Nice's Top 10 "BREAKING" Southern Soul Singles
TOP 10 OCTOBER 2020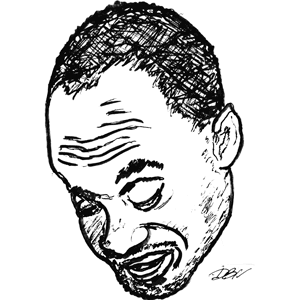 1."Pour Me A Drank"—— Narvel Echols
By now it sounds perfectly natural, but only in contemporary southern soul will you hear the blues interwoven with rap. This isn't the "same-old" blues. This is blues through the southern soul prism. Impressive lyrics. Impressive delivery. Narvel joins the big boys.
Listen to Narvel Echols singing "Pour Me A Drank" on YouTube.

2. "Want That Feeling (Dedicated to Roy C)"—–C.C. Miles
This is sweet southern soul music in the nineties' style of Eddie Holloway and Maurice Wynn. It's also a reference-filled homage to Roy C, who just passed, making it even sweeter.
Listen to C.C. Miles singing "Want That Feeling (Dedicated to Roy C)" on YouTube.
3. "America"——Big Robb
There have been scores of "black lives matter" tributes in the last few months, but no one does it like Bigg Robb. His instrumental palette, on which he lays and mixes his musical colors, is simply palatial. This song is quite a contrast with James Brown's celebratory "Living In America".
Listen to Bigg Robb singing "America" on YouTube.
4. "Swangin'"——RnB Pooh
Producer Ronald "Slack" Jefferson whips up an instrumental concoction that will go down as deliciously as a root-beer-and-vanilla float. Remember K.P. & Envyi's "Swing My Way"? From RnB Pooh's fine debut album, The Prince of Trail Ride Blues.
Listen to RnB Pooh singing "Swingin'" on YouTube.
5. "Listen Girl"—–Pretty Kenny
This absorbing and original debut illustrates the old maxim, "It's not what you say (because everything's been said); it's how you say it. All it takes is belief in yourself.
Listen to Pretty Kenny singing "Listen Girl" on YouTube.
6. "Choking Kind"—–Isaac Lindsay & The Soul Experience
Here's a cover (Joe Simon) by a newly secular artist (he's also a pastor) who recasts the song with a striking, orchestral, gospel-based arrangement that's begging to be widely disseminated. And to Mississippi Delta residents…Yes, this is the stentorian voice you've heard for years making announcements on WMPR (Jackson) and WAGR (Lexington). He's still raw, but what a sound. No YouTube yet (frown).
7. "Reasons"—-Pokey Bear
A riveting ballad from the new, .#1-ranked artist in southern soul music, from his new album Crown Me. Is the orneriest womanizer in southern soul really turning in his playa's card for true love?
Listen to Pokey Bear singing "Reasons" on YouTube.
8. "Tell Me Is It Love"—-Beat Flippa & Sir Charles Jones
The Flippa purloined (fancy word for "stole") this repeating, dah-dah-dah-dah, ascending progression from somebody, but I can't put my finger on it. It goes down smooth. Charles excels.
Listen to Beat Flippa and Sir Charles Jones singing "Tell Me Is It Love" on YouTube.
9. "Ain't Gonna Lie"—-Dee Dee Simon
Great hook and arrangement provide a dynamic backdrop for another lively Dee Dee Simon vocal. No YouTube (frown).
Listen to a sample of Dee Dee Simong singing "Ain't Gonna Lie".
10. "A Lil' Of You Is Better Than None"—-Avail Hollywood
Superb single from the new, love-oriented Avail.
Listen to Avail Hollywood singing "A Lil' Of You Is Better Than None" on YouTube.
Feedback, comments, information or questions for Daddy B. Nice?
Write to: daddybnice@southernsoulrnb.com