Daddy B. Nice's Top 10 "BREAKING" Southern Soul Singles
TOP 10 May 2022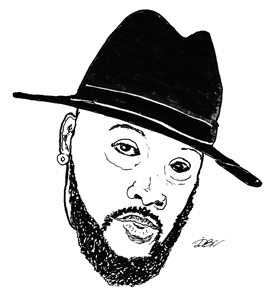 1. "Mr. Willy"—–C. Jones
Fans are so hungry for product—new southern soul music and sounds—deejays are scouring ever more obscure efforts before the unknown performers themselves are even ready to lace up their marching boots. That's what happened to C. (Chad) Jones, who's been knocking around the fringes of R&B for the better part of a decade. His "Mr. Willy" caught the attention of an alert Brit a few months ago (see Daddy B. Nice's Mailbag) and set off a frenzied search by deejays to be the first to announce the record. Now it's finally on sale and on YouTube. Nor has "Mr. Willy" lost any of its luster during the delay. It starts off very "middlin" (and could have been a flop) but soon soars on the wings of a fetching vocal and unique background track that weds a rhythm guitar to a tingling, bagpipe/clavichord-like sound that hovers around it like a sun-touched cloud.
Listen to C. Jones singing "Mr. Willy" on YouTube.
2. "Party 2 Hard"—–DeMond Crump
He used to be so raw (early Jackson, MS days), but this single along with last year's #1 single "Just Love Me" mark a huge transformation. The production's first-rate, the tempo's irresistable and the uncredited female singer (it's more accurately a duet) is off the charts. Actually, there may be more women singing on the choruses (or one double-tracking). Whatever, it makes the record blossom and brings out the best—the loosey-goosey—in DeMond.
Listen to DeMond Crump singing "Party 2 Hard" on YouTube.
3. "She Could Never Be Me (The Remix)"—–K. Renaa
The remix is so much better than the slower-tempoed 2017 original (which, paradoxically, has the sumptuous video) and it makes you wonder how many killer out-takes and mixes are languishing on hard drives around the circuit, discarded for inferior takes that never made it. Now, thanks to Renaa's rousing vocal, you can dance, sing or march around the house to "She Could Never Be Me" as your own, fired-up, personal anthem.
Listen to K. Renaa singing"She Could Never Be Me" on YouTube.
4. "Grooving In Love"—–Simply Wayne
Now here's a guy who sounds like he just walked out the back door of church on an August Sunday (in other words a gospel singer) and tossed off a quart with the guys. Pure southern soul singer with a little Reggie P. pedigree.
Listen to Simply Wayne singing "Grooving In Love" on YouTube.
6. "Sexy Lady"—–C. (Chad) Jones
In case you think C. Jones (#1 above with "Mr. Willy") will be a one-and-done, check this out.
Listen to C. (Chad) Jones singing "Sexy Lady" on YouTube.
7. "Bae Changed Me"—–Sky Whatley
After a long absence (a decade maybe?) Redd Velvet has returned to the studio with an "answer song" to King George's "Keep On Rolling," but I'll opt for Sky Whatley's send-up of the King's "Too Long". It's not an "answer" but a sampling worked into a lush and enjoyable ballad. Hope he approached George for the rights.
Listen to Sky Whatley singing "Bae Changed Me" on YouTube.
8. "Brown Liquor"—–Theodis Ealey
Not that "Brown Liquor" isn't an impressive single from the Ealey-Man (the King George of his day), but I fondly remember when "Stand Up In It" first came out—before it became famous—we media types thought of it as light and catchy, something like K. Renaa's "She Could Never Be Me" (#3 above), never dreaming it would become a stone-cold classic.
Listen to Theodis Ealey singing "Brown Liquor" on YouTube.
9. "I Wanna Feed Ya"—–Rosalyn Candy
Listen to Rosalyn Candy singing "I Wanna Feed Ya" on YouTube.
10. "Travelin' Man"—–K. Renaa
Listen to K. Renaa singing "Travelin' Man" on YouTube.
---
---
Feedback, comments, information or questions for Daddy B. Nice?
Write to: daddybnice@southernsoulrnb.com