Daddy B. Nice's Top 10 "BREAKING" Southern Soul Singles
TOP 10 MAY 2020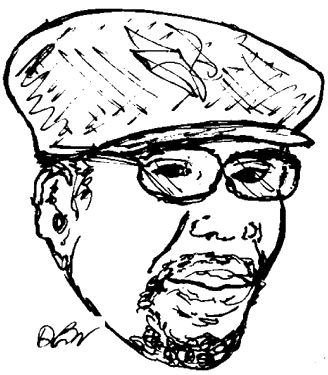 1. "Get'cha Head Right"—–Wendell B. 
He's this generation's Ronnie Lovejoy, and if you were going to record a new version of top-rated southern soul classic "Sho' Wasn't Me," Wendell would be the no-brainer choice to sing it. From the Boss's new album Real Talk, "Get-cha Head Right" is nothing short of magical and unique–instrumentally, lyrically, vocally. Most of all, it's believable, from the heart–like it's really coming from Wendell's life.
Listen to Wendell B singing "Get'cha Head Right" on YouTube. 
2. "Talk In Your Sleep"—-Vickie Baker
Vickie Baker harks back to the flickering dawn of contemporary southern soul, recording with Shreveport's legendary Suzie Q maven Stan Lewis at Paula Records. Somewhat inactive in recent years, Vickie scored a solid but mostly overlooked single called "Honey Hole" (#2 Single/Feb 17). "Talk In Your Sleep" is even better, and you'll love the way Vickie leads into her rant, real subtle-like… Beware, fellas! From Unkle Phunk's Juke Joint Vol. 1.
Listen to Vickie Baker singing ""Talk In Your Sleep" on YouTube.
3. "Booty Roll"—–Tucka
The sophistication is evident from the opening guitar phrase and yet, like a lot of Tucka songs, it shouldn't work. The melody is minimal and repetitive. But once again Tucka seems to make something out of nothing, and that something is "being hypnotized by the motion" of a loved one. "I see nothing but trouble," he says. "That thing is out of control."
Listen to Tucka singing "Booty Roll" on YouTube.
4. "Deeper In Your Body"—-Stan Butler
Imagine The Beach Boys going from "Little Deuce Coupe" to "Good Vibrations". Imagine Michael Jackson going from "I Want You Back" to "Billy Jean". Or imagine Sir Charles Jones' and Wilson Meadows' sincere attempt at a masterpiece at #4 in this same spot last month. We're talking hubris. We're talking exhaustive length–six and a half minutes. "Deeper In Your Body" may or may not be the greatest thing Stan Butler has ever done, but those three-minute Motown hits were constructed to be memorable, too–and they are.
Listen to Stan Butler singing "Deeper In Your Body" on YouTube.
5. "Grown Folks Party"—–Leroy Germaine
The highest-rated debut this month, Leroy Germaine's "Grown Folks Party" displays a remarkably seasoned vocalist over a compelling tempo and swaggering, take-no-prisoners rhythm track. The rudimentary keyboards reminded me of Question Mark & The Mysterians,from my childhood, with a whiff of the carnival that hooked me for good.
Listen to Leroy Geremaine singing "Grown Folks Party" on YouTube.
6. "Clockwise"—-Jeter Jones feat. Gary "Lil' G" Jenkins
"Clockwise, "a duet with Silk lead singer Gary "Lil' G" Jenkins, a nice ballad and prime-time, urban R&B fodder, proves Jeter Jones could go mainstream if he wanted to. Let's hope he doesn't. What a loss it would be for southern soul music.
Listen to Jeter Jones and Lil' G Jenkins singing "Clockwise" on YouTube.
7. "Milk"—–J. Red The Nephew
When J. Red gets it all going–the sweet-spot mid-tempo, melody, vocal and lovingly fleshed-out production–he is untouchable.
Listen to J. Red singing "Milk" on YouTube.
8. "Kiss Me Where You Miss Me"—–Jennifer Watts
Watts gives a contemporary southern soul, girl-group treatment to the Tyrone Davis classic, making it accessible for a new generation. The iconic guitar riff is the best of any version I've ever heard. Another keeper from Unkle Phunk's Juke Joint Vol. 1.
Listen to Jennifer Watts singing "Kiss Me Where You Miss Me" on YouTube.
9. "Nobody Said (It Was Going To Be Easy)"—–Rosalyn Candy
Listen to Rosalyn Candy singing "Nobody Said" on YouTube.
10. "Thickness"—–Roi Chip Anthony feat. DJ Jubilee & Pallo Da Jiint
Listen to Roi Chip Anthony & friends singing "Thickness" on YouTube.
Feedback, comments, information or questions for Daddy B. Nice?
Write to: daddybnice@southernsoulrnb.com