Daddy B. Nice's Top 10 "BREAKING" Southern Soul Singles
TOP 10 MARCH 2022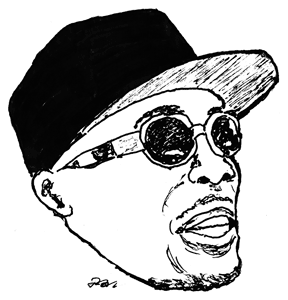 1. "Keep On Rollin'" ——- King George
Three million YouTube views in less than a month! I'm in awe of the power of southern soul music to connect with the fans. It doesn't matter if it's an "unknown". "Keep On Rollin" speaks to that unconscious id we all carry around, unaware we're blinkered by social norms until we encounter someone who upsets that apple cart of civility. That's why we're so tickled and pleased when Pokey Bear has the boldness to sing, "But I ain't coming home until three," or King George sings, "One monkey don't stop no show."
Listen to King George singing "Keep On Rollin'" on YouTube.
See more Daddy B. Nice commentary on King George.
2. "I Can't Keep Loving You" —– Willie Clayton
Late last year Willie teamed up with Tucka on "I'm Looking For A Woman," which was as much a validation of the contemporary relevance of southern soul's master stylist as it was a feather in the young man's cap. Willie actually inches out the popular Tucka in this month's top ten singles with a vocal that would do Al Green proud and an instrumental track as taut and textured as vintage Stax.
Listen to Willie Clayton singing "I Can't Keep Loving You" on YouTube.
See Daddy B. Nice's "New Album Alert" on Willie Clayton's new "Soul Caesar" CD.
3. "Jukebox Lover" —– Tucka
Tucka revisits the smooth and breezy musical setting of "Tipsy" for this evocative ode to dancing and loving.
Listen to Tucka singing "Jukebox Lover" on YouTube.
4. "Give Me Some Credit" —– Jay Morris Group
They've got the formula (scintillating harmonies, organ-style keyboard fills, male and female give and take) and they've got the melodies, and they're in a creative zone the likes of which we seldom have the good fortune to witness.
Listen to the Jay Morris Group singing "Give Me Some Credit" on YouTube.
5. "(Get It) Mr. Willie" —– C. Jones
Another southern-soul, mind-blowing "unknown". If you've been following Daddy B. Nice's Mailbag, you know that reader DeWayne has been on a mission to find this song he heard in a deejay mixtape. Ordinarily I wouldn't feature a song not on YouTube nor for sale, especially when that same artist himself is on Facebook, but I'm now in possession of a copy, I'm playing the hell out of it, and I just emailed it to DeWayne. Readers, know that "Mr. Willie," like this month's #1 "Keep On Rollin'," is mainlining southern soul, and I'm betting that within a month a link to the real thing will grace this space.
6. "Poundtown" —– David Brinston
David Brinston snags a good, ornery song and delivers it in his inimitable, ornery style.
Listen to David Brinston singing "Poundtown" on YouTube.
7. "Friday Night" —– King George
Here's another impressive tune—an update of Sir Charles Jones' "Friday—by the young artist taking southern soul by storm. (See #1 above.)
Listen to King George singing "Friday Night" on YouTube.
8. "Father, Father" —– Nelson Curry
One of southern soul's premier vocalists hits an emotional peak with this searing ballad dedicated to his father. From his new album Evolution Of Soul.
Listen to Nelson Curry singing "Father, Father" on YouTube.
9. "Can't Stop Thinking Bout You" —– Andre' Lee
Longtime veteran Andre' Lee crafts a lot of sensitive ballads but outdoes himself with this bonafide classic.
Listen to Andre' Lee singing "Can't Stop Thinking Bout You" on YouTube.
10. "Been A Boss" —– Sweet Nay
Sweet Nay follows up her pair of February top ten singles (scroll down) with this frenetic, zydeco-fired, Beat Flippa-produced club banger. From her new 4-star-rated debut album, "Good Vibes".
Feedback, comments, information or questions for Daddy B. Nice?
Write to: daddybnice@southernsoulrnb.com