Daddy B. Nice's Top 10 "BREAKING" Southern Soul Singles Preview
TOP 10 January 2021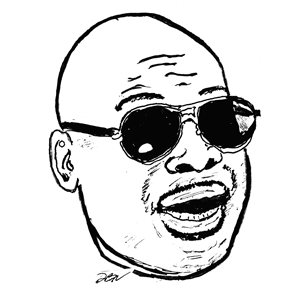 1. "Excuse Me"——-Big Pokey Bear
"I was just sipping on the Hennessy," Pokey sings in one of his finest vocals, "Me and my homies chilling V.I.P." In poetry that's called iambic pentameter, and I could give a lecture on all the things this song does, among them nailing a surefire melodic riff (Beat Flippa on the track!) and, foremost, bringing a Notorious B.I.G., hiphop-at-its-best "coolness" to southern soul. Even if you don't like rap culture, you can feel the relevance, the feeling that this is the music of "now," oozing out of every bar Pokey Bear sings.
Listen to Pokey Bear singing "Excuse Me" on YouTube.
2. "Southern Soul Woman"——Cadillac Man
This artist has been beating on your Daddy B Nice's "green door" for a couple of years now, at first with reggae-based, southern-soul submissions that confounded me and then other, expedient projects that alienated me. And yet, in that same time Cadillac Man has transformed himself into a true southern soul singer, as this anthem to southern soul women attests. It just goes to show what true "want-to" will do.
Listen to Cadillac Man singing "Southern Soul Woman" on YouTube.
3. "When You Work It"——P2K feat. T.K. Soul
P2K Dadiddy, the singer/songwriter behind the popular singles "Soul Brothers Moonshine" (with Sir Charles and Jeter Jones) and "Bottle After Bottle," returns with another cozy, guy-next-door groove, assisted ably by T.K. Soul.
Listen to P2K and TK singing "When You Work It" on YouTube.
4."A Little Freaky"——Big Yayo
Written by Omar Cunningham, from Big Yayo's just-released album Electric Cowboy, the risque' yet tender ballad "A Little Freaky" showcases Big Yayo singing without any enhancement and very little accompaniment, and guess what. Yayo kills it. He can really sing.
Listen to Big Yayo singing "A Little Freaky" on YouTube.
5. "Southern Soul Man"——Mr. Nelson feat. Sonya B.
A dynamic pairing of two new southern soul singers perfectly captures southern soul culture. Impressively produced and arranged.
Listen to Mr. Nelson and Sonya B singing "Southern Soul Man" on YouTube.
6. "Bout To Go Stepping"——T.K. Soul
T.K. Soul harks back to the electronic good vibes of "The Ladies Love To Slide" with this new single from his new album Chocolate Jamz. And don't miss Daddy B Nice's new profile of T.K. Soul—#4 The New Generation.
Listen to T.K. Soul singing "Bout To Go Stepping" on YouTube
7. "Work That"——Tha Party King
He's the brother of young diva Donyale Renee and guested on her "Backyard Booty" single. Both siblings forge a hiphop-hybrid southern soul, but "Work That" surpasses anything the duo's yet recorded, and just when you think Party King might falter or get repetitive, an uncredited rapper (or Party King himself in a different rap style?) comes in with a verse that makes it a certified hit.
Listen to Tha Party King singing "Work That" on YouTube.
8. "That Bomb Love"—–J. Red The Nephew
J. Red shines in another of his signature, mid-tempo ballads with all the finely-wrought trimmings.
Listen to J. Red The Nephew singing "That Bomb Love" on YouTube.
9. "Torn Between The Two"——Lady Q
Fresh from rousing turns on "Lumberjack (I Need That Good Wood)" and "Nose Wide Open,"Lady Q goes solo to remake the legendary Carl Sims' "Trapped".
Listen to Lady Q singing "Torn Between The Two" on YouTube.
10. "Different From The Rest"——King Fred
Singing with unaccustomed swagger, King Fred testifies to his southern soul "cred" in ways that have never been recorded before.
Listen to King Fred singing "Different From The Rest" on YouTube.
---
---
Feedback, comments, information or questions for Daddy B. Nice?
Write to: daddybnice@southernsoulrnb.com