Daddy B. Nice's Top 10 "BREAKING" Southern Soul Singles
TOP 10 February 2022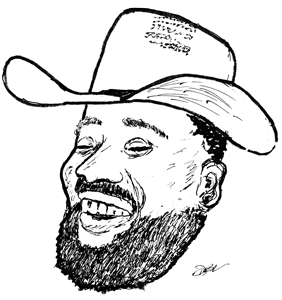 1. "Get My Groove On"——-Jeter Jones
Good club (dance) songs are so hard to come by. How'd we miss this one? Leave it to Jeter to remind us that "Groove On" (from Dhis Him) is as fresh as anything out there. If watching him dance free-style solo outside on the driveway and street doesn't get you off the sofa (as it does his family and friends at the end of this mesmerizing new video), you'll know you're ready for the retirement community.
Listen to Jeter Jones singing "Get My Groove On" on YouTube.
2. "Magic Woman"—–Binky Womack
Binky Womack brings more to the table than just that famous "Womack" name. The melody and vocal on "Magic Woman" will warm your heart. The lyrics will make you smile when you realize hungry-for-love trumps hungry-for-food.
Listen to Binky Womack singing "Magic Woman" on YouTube.
3. "Whooped (I Put That Nookie On Him)"—–Sweet Nay
This mid-tempo jewel, written by Sweet Nay & P2K and produced by Avail Hollywood, will get your attention from Sweet Nay's rousing "Someone call 911" intro. From Good Vibes, her splendid new debut album.
Listen to Sweet Nay singing "Whooped" on YouTube.
4. "Two Step"—–King Fred feat. Shae Shae
Speaking of club songs, it's a joy to see Fred Hicks polishing his little genie's bottle of idiosyncratic techniques, coaxing out ever more professional and lovely-sounding productions.
Listen to King Fred and Shae Shae singing "Two Step"
5. "Mississippi Girl"—–Vick Allen
Have you noticed? 2022 is starting out with a new sound: low-key (Binky Womack), folksy (King Fred), Americana-like—-in fact, more "If They Can Beat Me Rocking"-like. Even Vick is getting into it!
Listen to Vick Allen singing "Mississippi Girl" on YouTube.
6. "Thunder And Showers"—–Poka Jones feat. Sweet Nay
Another sure-fire chart-climber from Sweet Nay's Good Vibes album. Poka Jones is the singer who debuted a year ago with the groovy and empathic single "Love Thyself". Produced by Nil Jones.
Listen to Poka Jones and Sweet Nay singing "Thunder And Showers" on YouTube.
7. "Juke Joint 2K"—–Nelson Curry.
Cue this up after Jeter Jones' "Get My Groove On". From the same bag of vintage dance classics, courtesy of Curry's new album, The Evolution Of Soul.
Listen to Nelson Curry singing "Juke Joint 2K" on YouTube.
8. "Talk To Yo Ole Lady"—–Augusta (Augusta Walker)
Strong debut single by a vocalist exploring the late Marvin Sease's legendary territory.
Listen to Augusta Walker singing "Talk To Yo Ole Lady" on YouTube.
9. "Count On Me"—–T.J. Hooker Taylor
More Americana-like southern soul from a Taylor boy who just keeps gaining in confidence and accessibility with each new outing.
Listen to T.J. Hooker Taylor singing "(You Can) Count On Me" on YouTube.
10. "Over Night Stay"—–Dre Walker feat. J-Wonn
Pure J-Wonn, twenty-something romance and innocence. He teams up with a young singer, Dre Walker, who shares J-Wonn's style and bedding-them-down preoccupations. Most fascinating lyric so far this year: "Whatcha mean I'm not going back home tonight? You wouldn't be trying to kidnap me?"
Listen to Dre Walker and J-Wonn singing "Over Night Stay" on YouTube.
---
---
Feedback, comments, information or questions for Daddy B. Nice?
Write to: daddybnice@southernsoulrnb.com