Daddy B. Nice's Top 10 "BREAKING" Southern Soul Singles
TOP 10 December 2021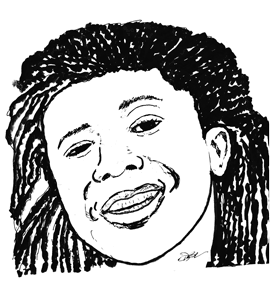 1. "Come Go With Me"—–T-Lyons feat. Tanji Emmeni
Talk about the "southern soul kid". From a "grown-folks" perspective, this guy is in swaddling clothes. A New Orleans hiphop phenom at twelve, T-Lyons was "discovered" by Ronald "Slack" Jefferson and pressed into serving up a delicacy rare in southern soul annals: "Come Go With Me"— featuring an instrumental track unlike anything Slack has ever done, with a gently-played button-acordion framing childlike vocals—goes by in what seems like the most beautiful minute of your life. From his debut album, T-Lyons: Hear Me Roar.
Listen to T-Lyons and Tanji Emmeni singing "Come Go With Me" on YouTube
2. "I Don't Play Them Games"——Mr. Cotton feat. Nore Cross
Mr. Cotton has been sending me unsuccessful submissions for years (long ago it was as 100% Cotton, which always put him at the top of my music index) and for just as many years I've been telling him he's a good producer with a terrible voice. But all that is forgotten with this frothy back-and-forth between a delightfully saucy woman (Nore Cross) and a gruff, deeply-voiced and deeply-suspicious man (Cotton). The couple's extremely polarized "conversating" is set against an exquisite and vaguely familiar melody (which funksters will abruptly connect with ConFunkShun's "Love's Train"), but what producer Cotton does with the song (adding the lyrics and Nore Cross) brings a whole 'nother level of southern soul ecstasy.
Listen to Mr. Cotton and Nore Cross singing "I Don't Play Them Games" on YouTube.
3. "Can I Ride?"——Nadia Thee Primadonna feat. Jeter Jones
Nadia's been knocking around on the fringes for a few years but I've never heard her like this: powerful, swinging, seemingly voice-trained, with a tone like a chapel bell. Call this her true southern soul debut. Jeter, of course, is always Jeter, making it work.
Listen to Nadia and Jeter Jones singing "Can I Ride" on YouTube.
4. "Drinking My Problems Away"—–O.B. Buchana
This is the song O.B. Buchana has been waiting for, authentic and true to his themes ("Let's Get Drunk," "I Can't Stop Drinking"), and guess who penned it? J-Wonn, the youngster who was in T-Lyon's place a half-decade ago. Hopefully, their audience will listen along with the rest of us.
Listen to O.B. Buchana singing "Drinking My Problems Away" on YouTube.
5. "Can't Keep No Secret"—–Fat Daddy feat. Tucka
Fat Daddy and Tucka have a special bond. They're actually related, they often tour together and it shows on this duet, both harmonies and solo verses. Fat Daddy's more of a squawker so that when Tucka takes over it sounds like warbling. It's a fascinating mix (if you're into birds and/or know what I mean).
Listen to Fat Daddy and Tucka singing "Can't Keep No Secret" on YouTube
6. "Push It Up!"—–Radio Rasheed feat. Poo Coo
Here's something different. A stripped-down, high-energy dance jam, simultaneously "house" and funky, that may remind hard-core old-timers of "Wobble Wobble". The artist's name, of course, is very close to the boombox-carrying Radio Raheem whose Floyd-like death occurs in Spike Lee's masterpiece "Do The Right Thing".
Listen to Radio Rasheed and Poo Coo singing "Push It Up!" on YouTube.
7. "Zydeco With Me"—–T-Lyons
More T-Lyons and more zydeco, covering the Jeter Jones original.
Listen to T-Lyons singing "Zydeco With Me" on YouTube.
8. "Love You Better"—–Ronnie Bell
Ronnie Bell just made the big leap (long overdue) all the way up to #15 on Daddy B. Nice's New Top 100 Countdown: The New Generation.
Listen to Ronnie Bell singing "Love You Better" on YouTube.
9. "When The Tables Turn"—–Terrence Davis
Great vocal, great guitar, great background vocals. And now I remember. This is the guy who did that crazy "Why You Mad At Me?"
Listen to Terrence Davis singing "When The Tables Turn" on YouTube.
10. "So Good"—–Sojo The Ladies Champ
The most memorable track from Winter Is Coming:A Southern Soul And Blues Queens' Christmas. Written by Dee Dee Simon. Read the review.
Listen to Sojo singing "So Good" on YouTube.
---
---
Feedback, comments, information or questions for Daddy B. Nice?
Write to: daddybnice@southernsoulrnb.com