Daddy B. Nice's Top 10 "BREAKING" Southern Soul Singles
TOP 10 August 2021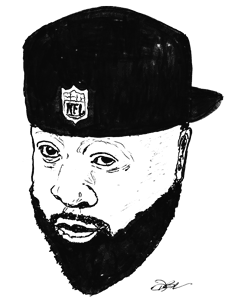 1."Dukes And Boots"—— Avail Hollywood
Who would have thought the maestro of quicksand-dense, glacially-slow, substance-abuser ballads like "Wasted," "Drinking Again" and "Rehab Ain't Working" would become a mid-tempo groove virtuoso? "Black Locomotive (Love Train)" was the impending thunder but "Dukes And Boots" is the lightning that strikes the blaze. Stupendous vocal. Raves for the dazzling lead guitar.
Listen to Avail Hollywood singing "Dukes And Boots" on YouTube.
2. "Cowboy Style" —— Ms. Jody
This Ecko-recorded track begins like a Ronald Jefferson, Slacktraxx production, with that ubiquitous little, muffled guitar (or keyboard?) pecking sound that Slack has used on countless hit singles. What? Capitulation from Memphis? You can imagine John Ward and company tearing their hair out over the Louisianan's success with this elementary-school sound, but it segues into one of Ms. Jody's finest efforts. After all, Ms. Jody is the mistress of the understated vocal, and as the instrumental track blossoms into a gentle boogie-woogie the song becomes irresistible.
Listen to Ms. Jody singing "Cowboy Style" on YouTube.
3. "Evidence" —– Bigg Robb
The B-I-G-G man takes on the legendary "mistaken identity" problems of Ronnie Lovejoy's "Sho' Wasn't Me" in a fiery blues. In the YouTube video his wife serves him a plate of food laced with razor blades, and as he rushes mouth bleeding to the bathroom Robb protests, "If you didn't catch me/ Tell me where's the evidence?"
Also, this month Bigg Robb breaks into southern soul's The New Generation chart at #11!
Listen to Bigg Robb singing "Evidence" on YouTube.
4. "Ride It" —– Ra'Shad The Blues Kid
I see where Malaco has now signed Mr. Sipp in its Ahab-like quest to appeal to the white blues market. Nothing against Mr. Sipp, but Malaco tried the same thing with Grady Champion and Queen Emily, and where are they now? Meanwhile, just up the road, the best young blues singer in the area is rocking in anonymity with great songs, evocative vocals and scorching lead guitar.
Listen to Ra'Shad singing "Ride It" on YouTube.
5. "Rush" —– Mississippi Hummin' Boy feat. Neicy Redd
Another young artist steeped in old-school style is rising in the southern soul firmament. Hummin' Boy found magic with "What I Like" featuring Sir Charles Jones, Omar Cunningham and K Monique. "Rush," assisted by the seductive Neicy Redd, emits the same, floating-on-a-cloud rapture.
See Daddy B. Nice's New Album Alert!
Listen to Mississippi Hummin' Boy and Neicy Redd singing "Rush" on YouTube.
6. "All Men Ain't Bad" —— The Duchess Jureesa McBride
Jureesa McBride finally has the song of her life, and she's ready for this moment. She sounds as real as if she were sitting six feet away from you, telling you the "difference between a boy and a man". The Duchess will be singing "All Men Ain't Bad" in every performance for the rest of her life.
Listen to The Duchess Jureesa McBride singing "All Men Ain't Bad" on YouTube.
7. "Pay To Play" —– P2K Dadiddy
"Pay 2 Play" explores some of the same territory as Arthur Young's "Funky Forty" but from a vastly different perspective and type of man. From P2K's new Pour It Up collection, which delivers the same, disarming, guy-next-door approach to life fans remember from 2018's Best Southern Soul CD Welcome To Da Boom Boom Room.
Listen to P2K singing "Pay To Play" on YouTube.
See Daddy B. Nice's New Album Alert!
8. "Now You Wanna Come Back" —– Miss Portia
"Consistent." "Determined." Words I would choose to describe Miss Portia, in addition to "talented". But the first two are the rarity in the female singer ranks, and each monthly or bi-monthly single Portia releases leaves notches on our collective brains, not to mention makes her better. It took me a couple of listens with "You Wanna Come Back" but I shouldn't have nibbled because now I'm hooked.
Listen to Miss Portia singing "Now You Wanna Come Back" on YouTube.
9. "I Think I'm In Love" —– Coldrank feat. Omar Cunningham
I had a lot of fun teasing Coldrank about changing his name from Cold Drank to "Coldrank" (or was it "Reek" from Game of Thrones?), but I have to make amends. "I Think I'm In Love" is a lovely, positive ballad with a truly memorable melody. One of the best cuts to come out of Baton Rouge in 2021—courtesy of producer Highway Heavy, of course.
10. "I Got Fired" —– Sheila B. Sexi Jackson
The chords from B.B. King's "The Thrill Is Gone" never grow old. Haven't heard them in a southern soul tune for a couple of years, but Sheila Jackson does them well in this smoky and evocative tale of crisis.
Listen to Sheila B Sexi singing "I Got Fired From My Job" on YouTube.
Feedback, comments, information or questions for Daddy B. Nice?
Write to: daddybnice@southernsoulrnb.com