Daddy B. Nice's Top 10 "BREAKING" Southern Soul Singles Preview
TOP 10 JUNE 2019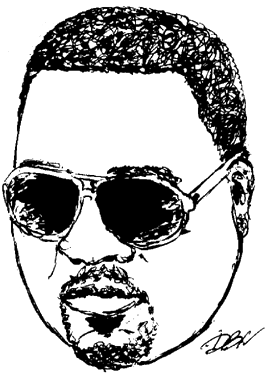 1. "I Forgot That I Was Mar-
ried" – J. Red The Nephew
Five minutes long, but so compelling it goes by in what seems like three, "I Forgot That I Was Married" traces a distinguished southern soul heritage all the way back to Ronnie Lovejoy and that "case of mistaken identity" in "Sho' Wasn't Me." J. Red follows up Soul Certified and J. Red the Nephew and Friends with his third winning collection in three years, Platinum Soul. Read Daddy B. Nice's 4-star review.
Listen to J. Red singing "I Forgot That I Was Married" on YouTube.
2. "Party Hard" – J. Red The Nephew
If "I Forgot That I Was Married" is the conceptual center of J. Red's Platinum Soul album, "Party Hard" is its thumping heart. At first it didn't register, but the hook kept returning, and I'd think, "Where is this coming from? Oh yeah! That party song with the disco-pounding tempo and delicate, Van Morrison-like, saxophone fills!"
Listen to J. Red (The Nephew) singing "Party Hard" on YouTube.
3. "I Hump It" – O.B. Buchana
Buchana's "I Hump It" is the genial flip-side to last year's "The Mule" from Parking Lot Love Affair, in which O.B. transforms the forbidding macho of the latter into a bubbly, ingratiating braggadocio.
Listen to O.B. Buchana singing "I Hump It" on YouTube.
4. "I'm What You're Looking For" – Luziana Wil featuring Crystal Thomas
This is the kind of music southern soul thrives on–from unknown sources with novel vocals (Luziana Wil)–music that embodies the obscure and scruffy character of southern soul itself. And who's the featured collaborator? Crystal Thomas, the lady I've called the present-day Thomisene Andersonfor repeatedly giving just this kind of roots-real performance.
Listen to Luziana Wil & Crystal Thomas singing "I'm What You're Looking For" on YouTube.
5. "Sleeping Pill" – Hisyde featuring Chrissy Luvz
When I first saw Hisyde's name popping up in concert flyers, I thought it was one of the strangest names I had ever heard. I pronounced it His-Side, but in the song he pronounces it High-Side, which makes more sense. Chrissy Luvz released her first southern soul single ("Catch A Fish Without A Hook") earlier this year, but that vocal can't match her mind-blowing, sublimely-understated performance on "Sleeping Pill."
Listen to Hisyde & Chrissy Luvz singing "Sleeping Pill" on YouTube.
6. "No Woman, No Cry" – Bishop Bullwinkle
Hell naw!, I wouldn't feature a reggae song in a southern soul column, but this is Bishop Bullwinkle singing with a robust power I haven't heard from him before. It's a straightforward rhythm and blues treatment, and in Bullwinkle's passionate testimony I'm hearing lyrics I never understood (or bothered to pay attention to) in the thousand-plus times I've listened to the Bob Marley version.
Listen to Bishop Bullwinkle singing "No Woman, No Cry" on YouTube.
7. "Return To Sender" – J.J. Caillier
Elvis did the definitive "Return To Sender" back in the sixties, of course, but J.J. Caillier (the zydeco artist who contributed so vitally to Sharnette Hyter's "Stilettos And Jeans,") crafts a "Return To Sender" with an undulating groove that owes a lot more to Ronnie Bell's "I'll Pay The Shipping Cost".
Listen to J.J. Caillier singing "Return To Sender" on YouTube.
8. "Can We Slip Away?" – Willie Clayton
Don't confuse Willie Clayton's old-school, professional, vocal technique with conservatism. He's never been afraid to take chances like he does here, namely an insistent, sucker-punching bass hook that seems to perfectly mirror the sexual craving in the lyrics. And for going-out-on-a-limb precedents, only think of "Wiggle"or "Boom Boom Boom".
Listen to Willie Clayton singing "Can We Slip Away?" on YouTube.
9. "Say Go" – Chris Ardoin
Half the time, and particularly in the choruses, it sounds like Chris is saying, "Say No!," which may say more about your Daddy B Nice than Chris Ardoin. Regardless, it's the boundless energy he captures with the strokes of his button accordion that has me jumping for joy.
Listen to Chris Ardoin singing "Say Go" on YouTube.
10. "Can You Handle It?" – Kami Cole
This song is a hoot. It combines elements from (most liberally) Nicole Jackson's "Can We Go There, Baby?" with a nod to Betty Wright's "Tonight Is The Night,"most poignantly the line, "Tonight is the night/ When I make you a grown man."
Listen to Kami Cole singing "Can You Handle It?" on YouTube. 
---
---
Feedback, comments, information or questions for Daddy B. Nice?
Write to: daddybnice@southernsoulrnb.com