Daddy B. Nice's Top 10 "BREAKING" Southern Soul Singles Preview
TOP 10 APRIL 2019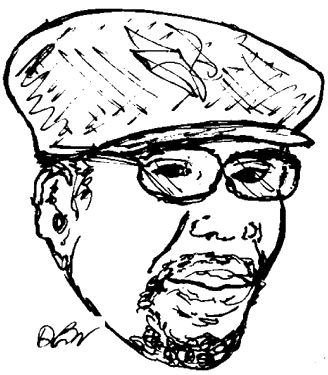 1. "Beautiful" – Wendell B. Tha' Boss delivers.
Listen to Wendell B singing "Beauti-
ful" on YouTube.
2. "Stay" – Chris Ardoin
The opening button-accordion hook sounds like a rooster announcing a brilliant new day, and the dazzling instrumental track (with live rhythm section) combines with an unusually evocative vocal. Zydeco artist Chris Ardoin (pronounced ar-do-in) said his audiences doubled when he got the "swing-out" crowd. Now he's crossing-over to southern soul. He revisits The Staples Singers' "Do It Again" in "Just Kickin' It," another song from his new album Evolution.
Listen to Chris Ardoin singing "Stay" on YouTube.
3. "Rodeo" – Itz Karma featuring Jeter Jones
By now everyone recognizes that Jeter Jones is about as close to being the "cutting edge" as anyone in southern soul music. Right? He has a nose for a hit.
Listen to Itz Karma and Jeter Jones singing "Rodeo".
4. "She's My Baby Forever" – Jaye Hammer
Oh, you forgot what that "old-school" southern soul sounded like? Here ya' go. As sweet and seasoned as they come, from Hammer's new CD, Double Trouble.
Listen to Jaye Hammer singing "She's My Baby Forever" on YouTube.
5. "DJ Let Me Grind On Her" – Avail Hollywood
I marvel at the vocals on Avail's new album Still King. In the early days there was a little "smoke and mirrors," the vocals disappeared at times. The first verse is the game-changer, robust and full-fledged. Hollywood's never sung with such strength and clarity.
Listen to Avail Hollywood singing "DJ Let Me Grind On Her" on YouTube.
6. "Mail Man" – Fat Daddy featuring Sir Charles Jones
Think of it. Your first southern soul single becomes the #1 Song of the Year. A dream come true. And the next year–2019–you have the King of Southern Soul, Sir Charles Jones, singing alongside you on a five-minute-plus stab at another number-one single. That's the fate of Fat Daddy, who has a deep well of southern soul inspiration behind his work.
Listen to Fat Daddy and Sir Charles singing "Mail Man" on YouTube.
7. "The Ladies Love To Slide" – T.K. Soul
Beneath its synth-funk-disco exterior, there's a good and even personable dance-floor jam. Play it a few times. From T.K. Soul's unexpectedly idiosyncratic new album, Untouchable.
Listen to T.K. Soul singing "The Ladies Love To Slide" on YouTube.
8. "Stop Looking" – West Love
Here's a new singer who arrives with the chops and poise of a veteran. Promoted and produced by Stan Butler, she's also marketing two other credible singles, "You Betta Go" and "Doing That Donald Trump".
Listen to West Love singing "Stop Looking" on YouTube.
9. "Sugar Daddy" – 2 Buck Chuck
Here's another new artist with the chops and confidence of a vet. Chuck's got a number of quality singles circulating from his new album Sugar Daddy, but the title cut is arguably the strongest.
Listen to 2 Buck Chuck singing "Sugar Daddy" on YouTube.
10. TIE: between…
"Changed My Mind" – Sassy D
Listen to Sassy D. singing "Changed My Mind On YouTube.
and…
"Lonely (If You Think You're Lonely Now)" – Nicole featuring Big Yayo
Listen to Shunte' Nicole and Big Yayo singing "Lonely" (Bobby Womack's "If You Think You're Lonely Now") on YouTube.
---
---
Feedback, comments, information or questions for Daddy B. Nice?
Write to: daddybnice@southernsoulrnb.com