Daddy B. Nice's replies to your letters – Mailbag May 2020
May 14, 2020
RE: BETTY WRIGHT
I never had the opportunity to get to know Betty Wright, but her death hits me very personally for two reasons:
1. Her son Patrick was shot to death in 2005; in 2014, she released the song "Dry Well," which she had written in his memory. One of my dearest friends in life lost her own son to similar circumstances in Chicago in 2016, and I can never listen to "Dry Well" without thinking of her, what she went through, and what it has taken for her to pull herself back together and keep going.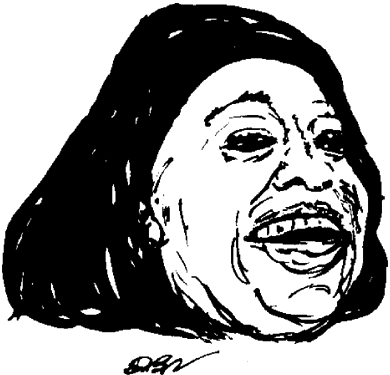 2. Another of my dearest friends in life, Denise LaSalle, received a remarkable gift from Betty Wright — a gift she didn't even know she was receiving when it came to her. It was late 2017, and Denise had been going through a health crisis following her leg amputation; she was in a medically induced coma at Vanderbilt Hospital in Nashville. Here's how she tells the story in her autobiography, Always the Queen:
"It was during this time that I experienced a miracle. Again, I don't remember it, but my husband says that Betty Wright had started calling from her home in Florida to see how I was doing.
"I knew Betty somewhat, but we had never been anything more than just cordial friends. For some reason, though, when she found out what was going on, she began checking up on me, calling to ask Wolfe [Denise's husband] about me, always staying in touch. So there I was, in a coma, and Betty called my room and asked Wolfe, 'Can I sing to her?'
"Wolfe put the phone to my ear, and Betty sang the gospel song, 'Your Grace and Mercy Brought Me Through.' She sang the whole song to me over the phone, and my husband said that as she was singing, my eyes started moving, and I started trying to move my lips a little; it was like I was coming back from somewhere far away. As she came to the end of the song, he says, I smiled and I started whispering the words: 'Brought me through . . .'
"He says he got so excited he could barely contain himself. He grabbed the phone back and told her, 'Betty! She's coming alive! She's coming alive again!' And from that point, I started talking. That was the beginning of my recovering from that.
"Betty had been through a lot. She'd had a son who was shot to death in 2005; she wrote her song 'Dry Well' in his memory. Then her career had kind of fallen off, and she was trying to build it back up again. But she was there for me. It was like she'd been called to me; someone I didn't even know that well, who came into my life and showed by her prayers and her spirit what the power of God can do."
David Whiteis
Daddy B. Nice notes:
David Whiteis is the co-author of Always the Queen:
The Denise LaSalle Story, just published by University of Illinois Press. Read Daddy B. Nice's book review.
---
---
May 9, 2020
Greeting From "Hole In The Wall" Cafe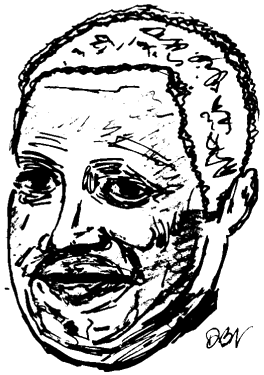 Daddy B Nice
I am from Conway Ar. I own and operate a restaurant named…"The Hole In The Wall " I used Mel's music to his song and put my lyrics to it I put it on youtube and on my Facebook page, the Hole in the Wall cafe catering and events, trying to stay afloat during this madness. Thought y'all might get a smile out of it! I don't have the rhythm nor the singing abilities as Mel, but I can cook standing right beside any of my soul brothers and sisters!! Hope y'all enjoy this!! Don't laugh to much!! Be blessed and safe!!
Toni
Daddy B Nice replies:
Toni, I hope you and "The Hole In The Wall" cafe/catering are hanging in there. Maybe more catering these days? I love the name of your restaurant and the fact you know the Mel Waiters song. Now that I read your letter more carefully, I see you actually have a video on YouTube–there was no attachment or link. If you meant to send one, you can still do that and I'll share it with the readers. In the meantime, I'll recommend they stop by "The Hole In The Wall" cafe in Conway, Arkansas!
---
---
May 5, 2020
Correction
Hi!
First I would like to thank you for reviewing my CD Compilation Unkle Phunk's Juke Joint Vol.1. Just for note and thought, I wrote and produced Talk In Your Sleep by Vickie Baker. So for the record it was Unkle Phunk who wrote and produced Talk On Your Sleep by Vickie Baker. Thanks in advance and once again its an honor to be in your charts and look foward to continuing bringing you good music to listen and play.
Unkle Phunk
Read Daddy B Nice's review of Unkle Phunk's JUKE JOINT, VOL. 1. 
---
---
May 1, 2020
Thank You Letter

Thank you
Dear B Nice, 
To those that may not know, my name is Mose Stovall aka The Velvet Voice! First off i'd like thank Daddy B Nice and Southern Soul RnB for all your continuous hard work and Dedication to the Southern Soul Community! I've been apart of this family for quite sometime time now! Thank you for recognizing Me featuring my father Eddie Stovall aka Big Daddy E for Whiskey Drinking Woman which was produced By Snatch Nelson and Fatt Catt Records. I'm also alumni of the Daddy B Nice's 21st century Top 100 Count Down with "Don't Stop The Music" Produced by Austin Hall and Rob Harris For Soul 1st records! It a honor to be apart of the family! Please be on the Look Out for my New Album Titled "Family" Ready for Release right now! It Features songs produced by Ron G Suggs, Snatch Nelson, Beat Flippa and Kelvin Benion. 85% Written by Mose Stovall. Featuring other writers Big Bird of Durdy Music and Eddie Stovall aka Big Daddy E. I also love reading reviews and keeping up with the new and old in Southern Soul. I'm signing out. In closing "Let The Music Play!! 
---
---
Feedback, comments, information or questions for Daddy B. Nice?
Write to: daddybnice@southernsoulrnb.com