Daddy B. Nice's replies to your letters – Mailbag March 2021
March 13, 2021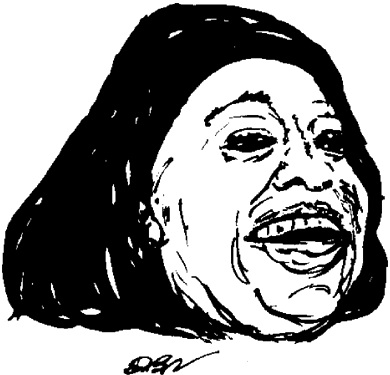 Denise LaSalle ALWAYS THE QUEEN Correction
Greetings –
I hope you are well and safe!
It turns out that Ms. LaSalle misidentified the name of the club she was performing in, as shown in the photo on pg. 134 of Always the Queen. She remembered it as the High Chaparral; it was actually the Burning Spear at 5521 South State Street in Chicago, which was owned by WVON DJs E. Rodney Jones and Pervis Spann. It's the same club where Jones presented her with her Gold Record for "Trapped By A Thing Called Love" – that photo is also on pg. 134.
The correction has already been made in the e-book version of the autobiography, and if there are any reprintings of the physical book, it will be there, too. Nonetheless, I want to get the word out as much as possible; it really means a lot to me to clarify this, because I'm sure it was simply an honest mistake / slip of the tongue on her part. She was no longer around for me to run the final draft by her so there was no opportunity for her to correct it, which I'm sure she would have done.
Can you please run this correction on your page? It would mean a lot to me, and to her memory.
Thank you so much for your ongoing support.
David Whiteis
Daddy B. Nice notes:
Buy David Whiteis's autobiography of Denise LaSalle at University of Illinois Press.
---
---
March 6, 2021
South Florida Wants Southern Soul Concerts!
Staff and promoters, we the people and adamant fans of southern soul music and it`s meaning. However there has not been a southern soul concert held in south Florida ( Miami, West Palm Beach, Ft. Lauderdale, Tampa,Orlando) since i DON`T KNOW WHEN.!!!!!. Can we get a concert of some of those blues artist here? The weather is always nice here especially if it`s an outdoors event. Thanks for the consideration of having a tour through our part of the world.
Kurt
Daddy B. Nice replies:
I love South Florida (except for the crazy drivers), Kurt, and I'm really fond of Fort Lauderdale. Just a month ago, I had a request for a "Daddy B. Nice Appreciation Party" in St. Petersburg, and I can put you in touch with that promoter if you like. But in general, talk to your local people with entrepreneurial skills. You're a little off the beaten track for southern soul, but not so far it can't be done. You need local promoters and venues, and "if you build it, they will come".
LOOKING FOR A SONG LETTERS
March 6, 2021:
Looking For A Song I heard on KNON 89.3 Radio
This song has some of the lyrics,
You my sugar, you my spice and everything nice.
I just wanna to express my love to you baby.
Cause you turn my life around.
I am so thankful for you baby.
Nobody could have tole me I would be back in love again.
Any idea who might sing this song, if you give out just infor.
Thanks
Marsha
Daddy B. Nice replies:
I'm stumped, Marsha. I'll post your question on the Mailbag page and see if it brings any answers.
Looking For A Song: PLEASE have some good news!
Greetings & Happy New Year Year Daddy B. Nice! I'm Parish Cratic and I would first like to say THANK YOU for moving Southern Soul & Blues genre forward after all these years! As a DJ in the genres, You have help me tremendously over the decades & for that you are truly appreciated.
I was going through your awards & categories for 2014 of best Mid Tempo songs for that year. I came across "Big Al – Southern Soul" slide and I decide to look it up on youtube just to see how it sounds & all I came up with is the line dance instructions. I think this song is AMAZING! I went to Itunes with my fingers heavily crossed with disappointment in the end. With all that being said do you have any idea where I could find a quality copy of this jam? I tried tracking down the artist to no avail also. I just can't let this song go! Hope to hear from you soon…good or bad.
Best,
Parish aka DJ PC Baby
Daddy B. Nice replies:
Sorry, Parish, I must have overlooked your e-mail in the crush of letters I've been getting since the beginning of the new year. Yeah, I found your song on SoundCloud. Here's your link to a full copy of Big Al's "Southern Soul Slide".
---
---
Feedback, comments, information or questions for Daddy B. Nice?
Write to: daddybnice@southernsoulrnb.com