Daddy B. Nice's CD Reviews 2021
October 25, 2021
Gerod Rayborn: I Love My Blues (Ecko)
Four Stars **** Distinguished effort. Should please old fans and gain new.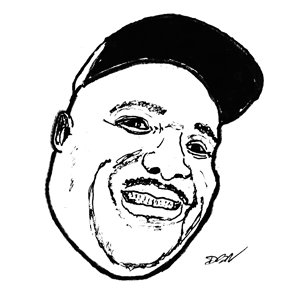 The title cut of Gerod Rayborn's new album I Love My Blues first saw light of day on Ecko Records' 2019 sampler Blues Mix 28: Dance Party Soul. The title was listed as "I Like The Blues" but the song was the same, including the lyrics, "I love my blues". Memphis musician Rayborn is well-known throughout the southern soul industry for his association with Ecko Records as a composer, producer and recording artist. He's written songs for Jaye Hammer, Sheba Potts-Wright, Carl Sims, Denise LaSalle, David Brinston, Ms. Jody and O.B. Buchana, making him a fixture in Ecko Records liner notes, in addition to guesting frequently in the Memphis label's Blues Mix Series—for instance, the catchy "Night Time Lovers" from the Ecko compilation Blues Mix 31: Dirty South Soul, reviewed here in September 2020 and, like "I Love My Blues," reprised on this new set.
A decade in the making (one of the tracks, "I Need It," dates back to 2013) Rayborn's new collection mirrors its predecessor—the 2010, Ecko-published, solo debut by Gerod, Call Before You Come— with a generous fourteen-track assortment that belies the long and winding road between CD's. Vigor and "want to," including the craving to perform one's own work, are the calling cards of I Love My Blues, which manifests a marked progression from the by-no-means insubstantial pleasures of Call Before You Come. It appears that instead of writing for other artists, Gerod has saved some of his best stuff for himself.
In addition to "I Love My Blues" and "Night Time Lovers," a bevy of uptempo numbers stand out, none more so than "I Work Hard for What I Got". Its strength is in the indomitable bass line and the rousing vocal, but the message contained in the lyrics—that you work hard to get the things you want, and you're proud of it—fires up the proceedings. "That Groove," not to be confused with Katrenia Jefferson's "That Thang," which it emulates in tempo and phrasing, also gets the juices flowing. Another noteworthy club jam, "Sue's Daughter," traffics in the musical territory of Bobby Rush's "Sue,"punctuated by a stomping rhythm track and authoritative vocal. Ironically, and despite the variety of styles used throughout, Gerod's vocals are largely invisible, which may be one of the finest compliments one can give an artist.
There are miscues: for example the set-opening "I Need It," with a bass line you've heard ad nauseum on dozens of Ecko jams, or "Take Me Back's" shameless recycling of the oft-used, string-section hook from Ms. Jody's "Your Dog's About To Kill My Cat". But these lapses are more than offset by slow-jam jewels like "Show Me Some Love," "I Still Want You" and "Ain't Gonna Let Nobody Mess Up My Day". Even the stock blues of "I'm The Right Age To Sing The Blues" wins over the listener with its nifty customizing to Gerod Rayborn's personal-life specifications.
What really gets the blood flowing, however, are two tunes you'd never expect on a record by a musician thoroughly immersed in Ecko Records culture. "You Didn't Know What You Had" is Percy Sledge-like. It also recalls the best days (when the streets were cobblestoned in gold) of Stax and Hi Records, former Memphis institutions that the current, Memphis-area music scene seems to give short shrift.
The other head-turning track is "Somebody's Been Talking Too Much," a winsome, mid-tempo, domestic slice-of-life that begs for airplay. If you're not seduced by the musically-undulating verses (and, once again, Rayborn's expert but invisible-like-God, totally natural vocalizing), you'll be transported by the exotic, far-Eastern, musical fillip that tiptoes through the instrumental track.
Combined with already-mentioned stand-outs like "Night Time Lovers,""I Love My Blues," and "I Work Hard For What I Got," this music takes I Love My Blues to another level—and thrusts Gerod Rayborn into the unfamiliar role of being one of the most exceptional and surprising recording artists of the year.
—Daddy B. Nice
Buy Gerod Rayborn's I Love My Blues album at Apple.
See Daddy B. Nice's new Artist Guide to Gerod Rayborn.
---
---
Feedback, comments, information or questions for Daddy B. Nice?
Write to: daddybnice@southernsoulrnb.com