Daddy B. Nice's CD Reviews November 2020
November 1, 2020
WENDELL B.: Real Talk (Smoothway Music)
Five Stars ***** Can't Miss. Pure Southern Soul Heaven.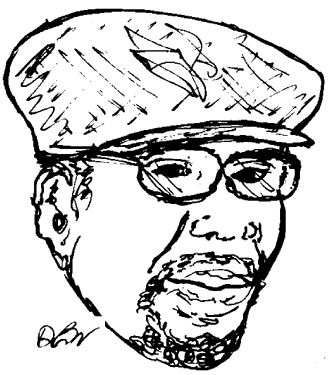 Wendell B kicks off "Cadillac Willie," the closing track of his new album Real Talk with, "Hey, Willie, here's a little change. Dance for me." "Cadillac Willie" is a new version (or an updated vision) of "Mr. Bojangles,"the beloved folk-rock standard by the Nitty Gritty Dirt Band (written and also performed by Jerry Jeff Walker), which in turn is based on the real Mr. Bill "Bojangles" Robinson, who was born in the 1880's and was making $3500 a week—not exactly spare change—at his peak. The lyrics are delightfully personal and detailed, but it's the music in "Cadillac Willie," and indeed throughout this, the best album of Wendell B's career, that serves as the platform for all the good words—and "real talk".
It's hard to believe Wendell B already has eight major albums to his credit—hard to believe "Just Don't Understand You" was fifteen years ago! Virtually all southern soul insiders consider Wendell to be a major artist, and yet even the term "major" doesn't do justice to the man's off-the-charts vocal gift. Every time he opens his mouth, it's hard not to think (in a conspiratorial whisper), "He could be number one."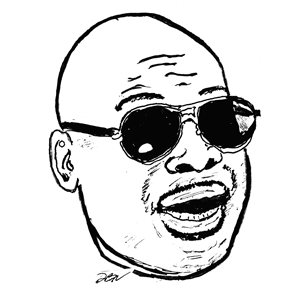 Currently in southern soul music there are two "W. Browns," Wendell and Wardell (the latter much better known under his recording and performance name of Big Pokey Bear.) The two outsized talents form bookends at opposite ends of the southern soul spectrum. Stylistically, Pokey plays it "rough" and Wendell B plays it "smooth." (Even his label is called Smoothway.) Pokey Bear presently rules the roost at #1, but no one is counting Wendell B out, and to imagine southern soul without either one of the "Browns" is unimaginable.
Wendell B's blockbusters from 2019 are both here. That would be "Beautiful," with the atmospheric, synth-washed, Sir Charles-like production, and "Still Learning 'Bout Love," with the Soul Music Representatives (Magic One, Jason Little & Curtis Jefferson), in which Wendell collaborates with his "brothers" but dominates like a man among boys. "Beautiful" charted as the #1 Southern Soul Single in April of 2019. "Still Learning 'Bout Love" charted at #3 in December of 2019.
The latter amassed nearly a million YouTube views (that was in 2019—the views in 2020 now number over 5 million) and achieved Daddy B Nice's "Best Collaboration of 2019," the second year in a row Wendell was an instrumental and indeed commanding cog in a southern soul communal effort. See Daddy B Nice's Best Collaboration of 2018: "High Heels & Jeans," with Magic One, Vick Allen, L.J. Echols & Avail Hollywood.
I gave REAL TALK an extensive and enthusiastic new album alert! in January when the CD first broke, cautioning that I didn't want to give the album too much hype on such scant and preliminary listening. To illustrate how long ago that now seems, the Covid-19 pandemic hadn't yet broken. In January I wrote prudently that "even a humble tune like "Get'cha Head Right" charms." Three months later, after months of listening, "Get'cha' Head Right" was #1 with a bullet in Daddy B. Nice's Top 10 Singles, occasioning the aside:
"Wendell is this generation's Ronnie Lovejoy, and if you were going to record a new version of top-rated southern soul classic "Sho' Wasn't Me," Wendell would be the no-brainer choice to sing it."
"Staying In Love Ain't Easy," charted at #3 in June, and "Cadillac Willie came in at #3 in July. There hasn't been such a run of Top 10 singles from a solo album since Tucka's "Working With The Feeling".
But what about the filler, you say? There is no filler. "Make'em Mad" is a typical Wendell B track, reminiscent of his earlier work, cloning hiphop techniques with Luther Vandross-style vocals.
"Check Now" has the stirring chords of a true anthem, accentuated by synthetic strings that wash over the chorus in pleasurable waves. Watch for it yet to hit the charts.
"That's What We Gone Do" pulses with feeling, propelled by a scintillating "stepping" beat. Background vocals lend even more to the sensation of dancing.
"Love Directions" rocks back and forth like a baby in an old-fashioned cradle, with pristine keyboard runs playing like light around Wendell's phrasings.
"Can We Just Talk" sails along on a "Summertime Madness"-like synthesizer line with Wendell weaving and bobbing vocally through the ascending and descending chords.
"Missing You" slows down to prime White/Vandross territory, with a dense, syruppey-sounding chorus.
There isn't a bad or reptitive cut on the album. Each song has something in common with the others—a certain style, a certain quality, Wendell's brand—yet each carries its own weight. Which leads me to proclaim: Real Talk is an honest-to-God primer in the art of production. In most of these songs, it's difficult to assess whether it's the melody or the arrangements toting the creative load. That's really remarkable.
As for the lyrics, I know most fans (and most recording artists, actually) place the importance on the words, but the fans wouldn't be listening to the words if the music hadn't gotten their attention. Take "Get'cha Head Right":
Listen to Wendell B singing "Get'cha Head Right" on YouTube.
The words are specific, urgent, and meaningful, from one lover to another—"If Shorty get her head right/ The Boss stay every night" (the "Boss" being Wendell B, of course)—but the music runs even deeper.
First, the delicate, moody, treble-clef strumming that sounds vaguely like one of those big harps you only see in movies anymore. Then the White-like opening voice-over. The pulsating of the drum. The thumping of the bass. Quirky. Hand claps. Spare. Yet ideal. Mixed to perfection, each element sounding like whole sections of a symphony orchestra.
And then, like a curtain opening on the main event, the Wendell B vocal in all its wandering glory, the "real talk" as only "The Boss" can sang it, synthesizer fillips curling around his prolonged phrases. Oh yes, and the rap, an undulating verse of words to spice it up. And then all the elements start swirling around one another as Wendell bobs between lead, background and chorus vocals. It's incredible.
This may be a year you want to put behind you, but before you evacuate 2020, pick yourself up a little Wendell B and bring it along with your pets, precious papers and memories.
—Daddy B. Nice
Buy Wendell B's Real Talk album at Apple.
Read Daddy B. Nice's Artist Guide to Wendell B.
---
---
Feedback, comments, information or questions for Daddy B. Nice?
Write to: daddybnice@southernsoulrnb.com