Daddy B. Nice's CD Reviews May 2021
May 1, 2021
Double Review:O.B. Buchana, Urban Ladder Society (w/ Stevie J. Blues)
O.B. Buchana: Southern Soul Brother (Ecko)
Three Stars *** Solid. The artist's fans will enjoy.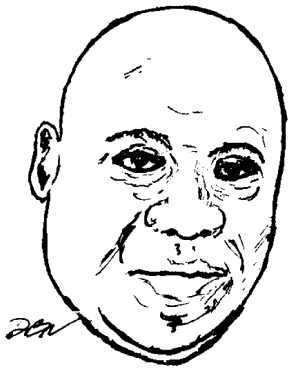 Along with the buckets of love, I think familiarity does breed contempt. As great and durable an artist as O.B. Buchana is, I get annoyed with him every time he puts out a new album. I feel like I'm pushing for O.B. harder than O.B. is pushing for himself. He's singing the same type of songs in the same old style with the same old instrumental tracks by the same old label of twenty years, Ecko. Imagine if Jeter Jones put out an annual album twenty years in a row with his same producer, Slack. I'd probably feel the same way, and I might even say of Jeter, as I'm tempted to do with O.B., that he's "plateaued," and that he needs to surprise us with something different. But then, as I listen to the tracks again and again, I gradually break down. Differences and nuances do appear. The songs begin to take on shape and substance, and before I know it, I'm starting to warm to it. Such is the process I've gone through once again with Buchana's new CD, Southern Soul Brother.
The album title and title track are taken from the John Cummings song "Memphis Blues Brothers," which I touted as the stand-out tune from the sampler Various Artists (Ecko), Blues Mix 31: Dirty South Soul. (See the review in the right sidebar of New CD Reviews.)O.B.'s version expands the roll call of "southern soul brothers" cited in the lyrics to the entirety of southern soul. I still prefer the relative sweetness of the Cummings original, but it will be interesting to see how the greater southern soul audience (who may not have heard the original) reacts to what may in effect be the first time they heard "Southern Soul Brothers".
"Cruzin'," the gem of a ballad from O.B.'s 2019 Face Down album, comes in for a remix here, adding some whimsical, calypso-like, percussive effects. And in a bid for striking vintage gold, and just a couple of months following a successful Stevie J. Blues rendition of the late J. Blackfoot's and Ann Hines' "Just One Lifetime," O.B. teams up with Lacee on the legendary Blackfoot's "Two Different People".
The first single from the album was released in late April, just in time for Mother's Day, and "Mama You've Been Good" follows in the benign tradition of such maternal eulogies as Sir Charles Jones' "Take Care Of Mama".
Not to be overlooked is the potential "sleeper" from the album, "You Might Have To Hurt". The composition brings out Buchana's finest vocal performance of the set, and the song's refrain—
"You might have to hurt,
But you can hurt and move on."
—is a defining moment, lifting the song (and the album) to the status of an anthem.
Some of the more uptempo numbers—"Bend It Over," "Bet You Got A Good 'Un" and "Tear It Up"—aren't' as successful, actually coming off as more sentimental than the ballads and mid-tempo numbers in spite of their token ribaldry. However, if you're averse to sentiment, O.B. Buchana is probably not meant to be your performer of choice anyway. Southern Soul Brother may not hit on all cylinders—the songwriting is a little too flaccid for that—but the set is a worthwhile addition to the O.B. canon.
Buy O.B. Buchana's "Southern Soul Brother" at Amazon.
Buy O.B. Buchana's new SOUTHERN SOUL BROTHER CD at Apple.
——————————————————-

Urban Ladder Society: The Summit (PKMG – IP Exchange (IPX))
Three Stars *** Solid Debut By A New Southern Soul Band.
Listening to "Da Blues," the opening track of their debut album, THE SUMMIT, you might describe Urban Ladder Society as southern soul crossed with De La Soul and A Tribe Called Quest, but the styles mutate as the songs unfurl. The only constant is the blues.
"Some people say the blues is gone.
My friends, the blues is still alive."
This echoes the message in Urban Ladder Society's 2020 debut single, "Same Ole Thang," also included on the album.
"It's the same ole thang,
Like water in the brain.
Like one thing never change,
The blues will stay the same."
In a way, THE SUMMIT actually refutes that statement. Although blues influences are what the set is all about, they're interspersed with liberal dashes of southern soul, funk, rap and even touches of jazz. The blues does change (even as it stays the same).
Urban Ladder Society is composed of Victa Nooman (lyricist), Chris Gill (vocals & slide guitar), Jonte´ Mayon (vocals) and Stevie J AKA Rooster Man (guitar and vocals), and one can see why Stevie J was drawn to this particular aggregation. There is so much to explore, and fresh sounds abound.
"Chill Winds" is a particularly potent blues, simultaneously original yet traditional, which seems to be the formula Urban Ladder Society is striving for. Like other recent southern soul-blues (Narvel Echols' "Pour Me A Drank" comes to mind), rap is given a verse and adds valuable contrast. Voice-overs segue into rap and vice versa, as in the ballad "Prophecy".
Stevie J's vocals dominate throughout, reminding us whenever he's on the mike that he possesses one of the sweetest tones in southern soul, but this band is by no means a one-man show. Check out the country-western-tinged "We Got This Covered," in which Stevie J's vocal segues into Chris Gill's vocal.
In "Trouble Man" Stevie slides from a voice-over into a quasi-rap and ultimately into a conventional balladeering. Just when you think the tune has accomplished its mission, it morphs again into a rap by another member, with Stevie sliding in once more at the end, singing, "I'll play the blues/'Till my troubles gone".
The most interesting and uplifting feature of THE SUMMIT is, in fact, its ability to surprise. You never know what the next song may hold, nor even what direction the next verse may take. Not all of the elements in this gumbo-like approach work, but the diversity of this album makes for an appealing debut comparable to recent newcomers The Jay Morris Group, high on variety and verve.
Listen to all the tracks from Urban Ladder Society's debut album THE SUMMIT on YouTube.
Download mp3's from Urban Ladder Society's THE SUMMIT album at Amazon.
–Daddy B. Nice
---
---
Feedback, comments, information or questions for Daddy B. Nice?
Write to: daddybnice@southernsoulrnb.com