Daddy B. Nice's CD Reviews June 2021
June 1, 2021
Hisyde: Who Is Hisyde (Dirty South Journals)
Four Stars **** Distinguished Debut By A New Southern Soul Artist.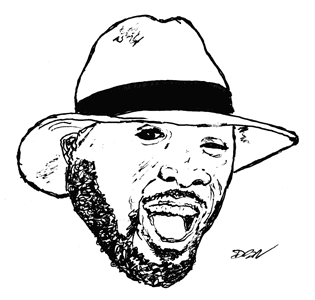 I was reminded of the late Reggie P. while reviewing the debut album by Hisyde, Who Is Hisyde? Reggie P's debut was entitled Who Am I?
I'm not going to say Hisyde's debut is as auspicious as Reggie P's—well, yes I am. Reggie's legendary, break-out album was his second long-play, Why Me? Hisyde also reminds me a little of Luster Baker (Vickie Baker's little brother for the old school), who's a musical genius but less career-focused than Hisyde, and of Arthur Young, who is the more accomplished vocalist and writer but lacks Hisyde's producing acumen. That's some pretty elevated company for a debut artist. Hisyde's not a producer per se (he gets the cream of the crop—Beat Flippa, Tony Tatum, Eric "Smidi" Smith—to do the work for him), but he understands the importance of getting the best out of every record (something Young still needs to work on), and that's half the battle.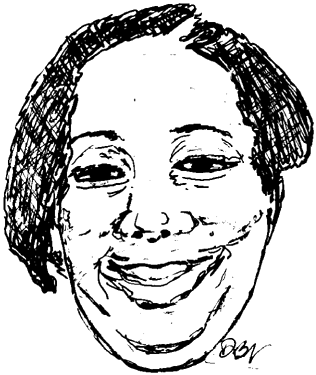 Born in 1979 in El Dorado, Arkansas and raised just down the road in tiny Strong, Arkansas, Sernerick Greer (aka Hisyde) started managing and doing promotional work for a rap group called the Swangaboyz in south Arkansas after graduating from high school. In 2009 he moved to Dallas to pursue a gospel recording contract with gospel producer Flaco Da Great. When Flaco relocated to California, Greer pursued musical studies at Eastfield Community College, interned in "Artist Boot Camp" under engineer/professor Brad Cox and managed the late Big Cynthia Walker.
Hisyde published his first southern soul single "Ouchie Coochie" in March of 2019, and followed it up in 2020 with the release of his debut EP Hap Here, containing "Oochie Couchie" and the tunes "Fantasy Man," "Sleepin' Pill" (feat. Chrissy Luvz), "Hap Here" and "The Git Up" (feat. Big Mucci & Rico Cason).
Hisyde first appeared in Daddy B. Nice's Top 10 Singles in June of 2019 with "Sleepin' Pill" featuring Chrissy Luvz. The giddy and disarming "Sleepin' Pill" also gained year-end honors, coming in at #21 on Daddy B. Nice's "Top 25 Singles" as well as propelling Hisyde into a nominee for Best Debut artist of 2019.
Who Is Hisyde? essentially reprises the songs from the Hap Here EP while adding Hisyde's two head-turning, blockbuster singles of 2020 and early 2021, "Is It Ova?" and "For Your Love". The roof-rattling "Is It Ova?", featuring Avail Hollywood and produced by Beat Flippa on his celebrated P.O.T.Y. album, was #1 with a bullet in December of 2020, and the buoyant, swinging "For Your Love," produced by Eric "Smidi" Smith, was #2 in March of 2021 (and the 11th-ranked single of 2020), prompting Daddy B. Nice to comment:
Hisyde is really coming on. Two in a row! "For Your Love" comes at you as easily as Mr. Campbell's "I'm Stepping Out" a couple years ago. This song plus "Is It Ova?" should catapult Hisyde above the rank-and-file for good.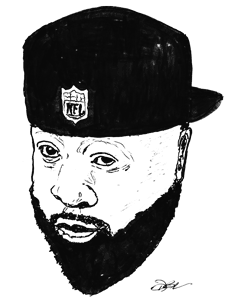 The rambunctious "Is It Ova?" was an outright smash, peopling deejay turntables across the South and not only lifting Hisyde's profile but revitalizing Beat Flippa's mojo. And just as with Chrissy Luvz's inspired vocal on "Sleepin' Pill," Avail Hollywood's turn on "Is It Ova?" was among the King of Grown Folks' best-ever, guest-artist spots, furthering Hisyde's reputation and knack for bringing out the best in his collaborators.
Southern soul devotees may do a double take at "If You Were Mine," a full-fledged country-western single that according to Hisyde has already attracted some attention in Nashville, and proving, like so many before him, that if you can sing southern soul you can sing country.
Of the handful of remaining tracks, there's not another song of which you could say, "This is a sure-fire new southern soul hit single." But there's more than enough to savor just catching up on the last two years of Hisyde's product. Debut albums seldom pack in as many deserving cuts as Hisyde delivers on Who Is Hisyde, and I would rank the not-to-be-missed songs in this order: "For Your Love," "Is It Ova?", "Sleepin' Pill," "Fantasy Man," "Ouchie Coochie," "Hap Here" and "Nookie Now," with the best of the new/unknown cuts the ballad "Yes Maybe No".
Hisyde takes to the road with a host of venues in 2021 including El Dorado and Crossett, Arkansas, Dallas and DeSoto, Texas, Monroe, Richwood and Choudrant, Louisiana, with big-city stops in Atlanta and Detroit, and if his official video to "For Your Love" is any indication, he should be great in concert.
—Daddy B. Nice
Listen to all the tracks from Hisyde's WHO IS HISYDE debut album on YouTube.
Buy Hisyde's WHO IS HISYDE album at Apple.
Visit Hisyde's official WHO IS HISYDE website.
---
---
Feedback, comments, information or questions for Daddy B. Nice?
Write to: daddybnice@southernsoulrnb.com