Daddy B. Nice's CD Reviews July 2021
July 1, 2021
JETER JONES: Trailride Certified Part 2 (Jones Boys Ent.)
Five Stars ***** Can't Miss. Pure Southern Soul Heaven.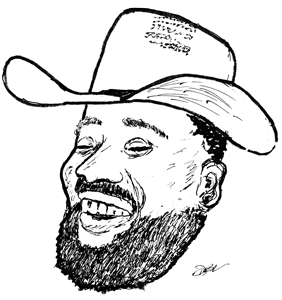 Jeter Jones is in the midst of one of the most productive runs by a southern soul artist in recent memory. Consider that since last summer (the Covid summer of 2020) Jones has released the following albums of all-new material: The Jones Boyz: 2 Kings with Sir Charles Jones, the solo project Mufassa, a Jones-inspired and Jones-dominated, multi-artist compilation titled Fish Grease Friday and now Trailride Certified 2, a 21-track, various artists compilation featuring Jeter Jones on practically every track. The long and short of it is that it's hard to imagine the last year in southern soul music WITHOUT Jeter Jones.
I previewed the new album last month in a "New Album Alert," recounting the shock of watching Jeter sucker-punch-shoot a Jeter Jones imposter in the YouTube-video, outdoor-prelude to the otherwise carefree, massive booty-twerking club jam "Back That Thang Up". And for the same reason many years ago I was horrified by Bigg Robb's remix of Mel Waiters' "Hole In The Wall," I explained why I didn't like Jeter's remix of his signature song "Black Horse". In short, if you've discovered enough magic to hit the sweet spot of southern soul i.e. "Black Horse," don't funkadelic it up!
But after the better part of a month spent listening to the surprising outpouring of music in TRAILRIDE CERTIFIED 2, I don't have another reservation to dispense. This is a set of music you can live with. Of how many albums, seriously, can you say that?
There may not be a song on this album as blissfully buoyant as Jeter & JL's "Love You Down" from "Fish Grease Friday," nor a song as captivating and guitar-inspired as "Mind Playing Tricks On Me" from "Mufassa," but TRAILRIDE CERTIFIED dwarves them and the preceding albums. In fact, given the excessive amount of material to be covered in TRAILRIDE CERTIFIED 2, I think the best way to approach it is simply to bullet-comment (pun intended, of course) on the songs I've been listening to most frequently this month.
"Slow-motion sensuality slathered over a bed of heavenly instrumental sweetness." From Top 10 Single charts May 2021 #2. Jeter's seems inspired and "stretches out" with an eye-opening vocal. Urban Mystic joins him.
"(Something About The) Rain (Remix)"
This soulful slow jam featuring Jeter, Volton Wright, R&B Pooh, and David Jones is reminiscent of Wendell B and the Soul Music Representative's "Still Learning 'Bout Love". In other words, a quartet of street-corner serenaders blowing your mind.
This was the first pre-release single from the album (charting at #4 in April), and it's held up well. With lyrics like, "I go to church on Sunday/Work on Monday," it portrays the kind of humble man just about any woman would find huggable.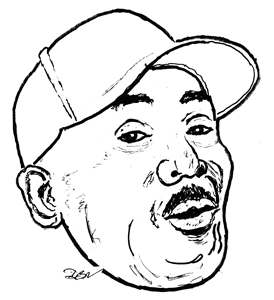 This emotive ballad features Volton Wright, whom I gave four stars for his distinguished southern soul debut (reviewed on this page). And I notice his presence, writing and/or singing, in other spots of Trailride Certified 2.
I've actually been listening to this tune the most, and today (as I'm writing) is Father's Day, so I was delighted to hear my daughter, who is not a southern soul lover, and who deployed twice to Iraq, and to whom I'd sent the song, say, "I liked the song you sent me." That was a first.
You'll remember this one as the guy who sounds like Cupid. A young guy named Just-K joins Jeter on a rousing melody.
The lyrics are over the top, and I haven't even "caught" half of them yet, but the instrumental track pulls me in like an outgoing tide. The vocal tracks are enhanced by female rappers Mizzbehave and KyaraBoo.
This tune's getting the most YouTube views. People love the lyrics, which revisit the territory described so well by Mr. (Chris) Ivy in "Turn Road".
That's ten songs discussed, and only half the album covered. Other songs that have caught my attention are "What You See" feat. DeShay, "I Shoulda Done Better" (from a con's perspective), "Put It In My Face" feat. Terry Rogers, the chant-like "Get My Shine On" and "Somebody Won't Make It" (about Covid 19). You begin to see the scope of this project. This album takes up the better part of an hour, and you can listen to its endless variety as you would have listened to top-forty radio back in the day.
One final note. In my "Album Alert" I promised to speak to the issue of production. I noticed a lot of the tracks on Trailride Certified Part 2 had new and/or unknown producers, and I noticed the absence of Ronald "Slack" Jefferson. And I said that might be a "good thing".
Well, no worries. These guys, Jeter and Slack, had this thing well in hand the whole time. Ronald "Slack" Jefferson is the executive producer of this album. Like a Joycean hero, Slack is unseen and everywhere (with a couple of exceptions) while a raft of new and mostly unknown producers—Carl Sanders, Daejuan Braxton, Bishop Burrell, Brandon O. Williams, Christopher Washington, Marcus Bell, Kevin Nelson, Eric "Smidi" Smith, Ronald Johnson—take over on the front lines. The result is a refreshing diversity of producing approaches becoming such a massive project. From song to song you don't know what to expect, just as it was in the aforementioned heyday of radio, and maybe still is in a few choice locations, namely southern soul's Stations of the Deep South.
My lasting impression of Trailride Certified Part 2 will be of its remarkable many-sidedness. Yet despite its panoramic scope, this is Jeter Jones' most personal album. A touching sense of familial intimacy and easy-going vulnerability permeates every track.
Digital customers will see, in the album cover work of a storm-threatening, horse-filled, western scene, a second cowboy-hatted man standing behind Jeter. And on the hard copy of the jewel case and the artwork of the actual CD disc, the name Troy Ford is given equal billing with Jeter Jones. When I asked Jeter who Troy Ford is, and what he contributed to the album, he replied that Troy Ford is his older brother, a black cowboy who has been rodeoing (specialty: steer wrestling) for twenty-five years.
"He is the one that motivated me to go back to my roots of Trailride Certified. Most of the songs, like 'Hold It In The Road' and 'Dirt Road Loving,' talk about our adventures. His nick name is Crow. When I say (on the album), 'Crow said take her to the watering hole.' That's him."
—Daddy B. Nice
Buy Trailride Certified Part 2 at Apple.
Listen to all the tracks from Jeter Jones' new Trailride Certified Part 2 on YouTube.
---
---
Feedback, comments, information or questions for Daddy B. Nice?
Write to: daddybnice@southernsoulrnb.com