Daddy B. Nice's CD Reviews August 2021
August 1, 2021
SIR CHARLES JONES: The Chosen One (Music Access)
Five Stars ***** Can't Miss. Pure Southern Soul Heaven.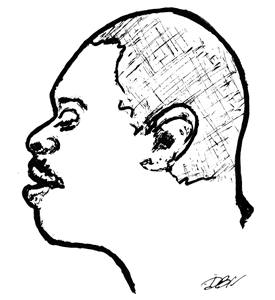 As most everyone conversant with southern soul music knows, Sir Charles Jones and Jeter Jones (no relation) got together in 2020 to produce The Jones Boyz: Two Kings". The collaborative album was successful, not to mention a validation for Jeter Jones, who had written and sung his way from obscurity to the top rank of southern soul artists, a moment further memorialized at the onset of the Sir Charles "Still In Love" video, when Charles welcomes an exhausted, road-tripping Jeter Jones into his studio with, "I know you're tired, man." The two performers brought out the best in one another, but who knew at the time that the partnership would stimulate their future output?
Jeter's new album (reviewed previously on this page) is among his best ever, and The Chosen One is an uncommonly powerful set from Sir Charles. The songs pour out in a torrent of inspiration. As a matter of fact the tunes are so varied, with so many contexts and points of view, it's tempting to wonder if Charles has a secret cache of songwriters on his payroll. Whatever the resource, the results are amazing.
Three of the tunes from THE CHOSEN ONE dominated Daddy B. Nice's Top 10 "Breaking" Southern Soul Singles in the month of June: "Eternity" at #3, "Forever" at #6 and "Midwest Party" at #9. In July the title track "The Chosen One" came in at #5.
The ballad "Eternity" is in the mode of last year's "Still In Love" but with much less visible artifice. It's a superb Sir Charles Jones love ballad, emotionally true.
Produced to cross over into the pop market, with a rock-and-rollish piano, doo-wop chorus and gorgeous synthesized chorus, "Forever" should endear Charles to the baby-boomer audience and anyone who loves the musicality of early rock and roll.
"Midwest Party" caters to the only geographical group that gets less respect than Southerners. Charles dedicates it to his far-flung, midwest family members but all Midwesterners will love this smooth-stepping hymn to the heart of the country. "Even Nebraskans" Sir Charles notes toward the end. "They sure know how to two-step too!"
With an instrumental sound reminiscent of early-seventies Marvin Gaye and a bracing, northern musical ambience (vintage Detroit and Philly), "The Chosen One" is a chest-pounding, selfie testimonial. Charles is aiming for the audience beyond southern soul with this chest-thumping and fronting, but the track is so purely focused and musical it comes off as natural and captivating, akin to a first-time artist introducing himself to the world. And who wouldn't want Charles leading the charge of southern soul into the mainstream, cape furling in the wind, "grown-folks" shield glinting in the sun?
Many of the songs in this ten-track set are three minutes in length, which adds to their power, and gives the set an explosive element. But even the longer songs—"I'm All I Got, I'm All I Need," for instance, roll by expeditiously, one after another, in waves of seemingly spontaneous energy.
"Morning Rain" indulges in synthesizer washes and vocally-enhanced vocals we fans recognize from Sir Charles' past work, but without any telltale barnacles of age or derivation clinging to it.
"I'm All I Got, I'm All I Need" offers a wickedly ornery take on the old saw that "no man is an island". Charles' narrator in this tune insists he can survive without anyone, and whether it's meant as a portrait of an egotist or a tongue-in-cheek satire, the lyrics are a brash reminder that there are no boundaries in songwriting except those made by songwriters themselves. Like all of the songs in the set, freshness and spontaneity are the order of the day.
How does a 25-year veteran of southern soul music re-invent himself, approaching his music as if he were a wide-eyed kid, bringing innocence and fresh perspective to bear on all the dues he's paid and techniques he's acquired? On The Chosen One it's as if Sir Charles Jones has been "reborn," achieving that most difficult and elusive state of mind for a show-business veteran. If you've grown blasé about the King of Southern Soul, I guarantee you'll be surprised by this album's freshness, curiosity and enthusiasm.
—Daddy B. Nice
Listen to all the tracks from THE CHOSEN ONE on YouTube.
Buy Sir Charles Jones' THE CHOSEN ONE album at Amazon.
---
---
Feedback, comments, information or questions for Daddy B. Nice?
Write to: daddybnice@southernsoulrnb.com