Daddy B. Nice's CD Reviews April 2020
April 4, 2020
Arthur Young: Funky Forty EP (Vigor Music)
Four Stars **** Distinguished effort.  Debut By A New Southern Soul Artist.
Arthur Young has a no-frills video posted on his Facebook page–just him casually singing a song. Underneath the video are the words: "Rough draft to "Catfishing" What y'all think!!"
I'll tell you what your Daddy B. Nice thinks. Terrific. "Catfishing" will be as big or bigger than "Funky Forty". Southern soul music has found itself a keeper.
But let's not get ahead of ourselves. "Funky Forty" is a four-song collection headlined by the tune, "Funky Forty". It snuck out a few days before Christmas last year–December 20th, to be exact–and without any publicity or industry recognition the YouTube video has already amassed over 700,000 views. Clearly, the young man is doing something that attracts an audience.
Listen to Arthur Young singing "Funky Forty" on YouTube.
Young didn't appear completely out of the void. Accompanied by southern soul up-and-comer Tony Tatum on the "Funky Forty" choruses, he was soon given the ultimate peer compliment when Rosalyn Candy recorded an "answer" song to "Funky Forty" which, when it first came through my e-mail, was how I first became aware of Young's original.
Listen to Rosalyn Candy singing "Funky Forty Reply".
Musically, "Funky Forty" is much more than its justifiably-lauded lyrics. It's got a good groove, a solid rhythm track, an easy-going yet memorable melody, and–grounding it all–an earthy, believable vocal. And, on top of that, you get all the funny lyrics about the in's and out's of keeping a forty-dollar whore. Wasn't there a single?–now what was the name of that?–called "My Sidepiece" with some of the same keep-you-laughing qualities?
Here's how it charted:
************
Daddy B. Nice's Top 10 "BREAKING" Southern Soul Singles For. . .
——-FEBRUARY 2020——-
…3. "Funky Forty"——Arthur Young
Bargain-priced sexual favors in the shadowy corners of the chitlin' circuit make for a funny and memorable tune that has already garnered a quarter-million YouTube views.
Listen to Arthur Young singing "Funky Forty" on YouTube.
************
And that was followed by…
************
Daddy B. Nice's Top 10 "BREAKING" Southern Soul Singles For. . .
——-APRIL 2020——-
…2. "Stroking"—-Arthur Young
Clarence Carter would be proud of this young man's authoritative "Stroking". Young has already brought us the surefire classic "Funky Forty"(See #3, Top 10 Singles February 2020), and just as with that hit single, he has a knack for the right phrase. "I'll be crying in the morning/ I'll be begging in the evening/ But I bet I'll be strokin' tonight." From Arthur Young's Funky Forty EP.
Listen to Arthur Young singing "Stroking" on YouTube.
************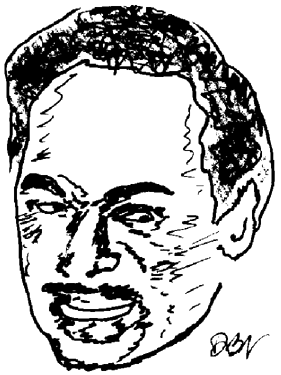 Easy to overlook, because the lyrics of the two tunes are so good, is the fact Young's music is substantial in terms of both composition and production. And when I think of "substantial," I think of Marvin Sease. Marvin's "everyman" voice (which he used to his advantage) and cunningly accessible production more than made up for Johnny Taylor flash or Ronnie Lovejoy depth. Marvin's sound was consistently round and full, pulling you in, charming the socks off you, humble and humorous, yet always swinging, always pulsing that groove.
Young's artistry is much like that. He sounds like a Sease-kinda every-man, intimate with all the low-life details, the stories of the contemporary "culture" we delight in hearing about, and armed with the intuitive musical tools to bring them off.
Of the remaining two songs on the EP, "Windex Man" is an acceptable but in the end resistible take-off on Betty Wright's "Clean Up Woman," while "Knock It" is a well-received (75,000 views) but ultimately forgettable tune, well within the long shadows cast by "Stroking" and "Funky Forty".
Bring on "Catfishing"!
–Daddy B. Nice
Listen to all the tracks from Arthur Young's "Funky Forty" EP on YouTube.
Buy Arthur Young's new Funky Forty EP at Apple.
See Daddy B. Nice's new Artist Guide to Arthur Young.
---
---
Feedback, comments, information or questions for Daddy B. Nice?
Write to: daddybnice@southernsoulrnb.com